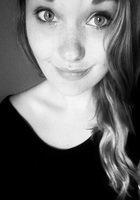 Alex
Certified Tutor
I am a pre-Occupational Therapy student majoring in psychology with minors in neuroscience and art. I will be graduating with honors from the University of Minnesota-Twin Cities in May, and I will begin Washington University School of Medicine's Doctorate of Occupational Therapy Program this Fall. My academic pursuits have made me confident in my abilities to tutor those pursing degrees in social sciences along with those pursuing careers in health care. Currently my favorite subject is neuroscience. I fell in love with it after I started college and I plan on specializing in neurorehabilitionation as an occupational therapist.
I have many years of experience working with children of all ages and abilities in many settings, including previous tutoring. I also have many years of experience working with children and adults with mental and physical disabilities. These experiences have provided me with skills to develop individualized plans to help individuals achieve their goals. I have had much success when applying these skills to my tutoring plans. I have also used and developed these skills further in the research I have conducted on promoting independence in adults with Autism and early intervention programs for children with Autism. My individualized interventions in both research projects resulted in increased fine motor skills in children (increasing their independence in daily cares) and successfully preparing adults for independently working in their community. These skills are also utilized in my other job at an assisted living facility for nonverbal adults with Autism.
I am very happy and willing to help anyone of any age reach their full potential and pursue any goals they possess.
Contact me personally for weekend availability. Currently I will often have some availability each weekend day but the time varies due to my other job. In the future, I can schedule these shifts around tutoring sessions if you wish to meet with me on the weekends.
Test Scores
ACT Math: 30
ACT Reading: 31
Hobbies
Painting, Drawing, Photography, Hiking, music (favorite band is TV on the Radio), muscle cars, binge watching bulldog and cat videos online, Travel (I just returned from a month in New Zealand so I have many stories for other Lord of the Rings fans)
Tutoring Subjects
10th Grade
10th Grade Reading
10th Grade Writing
11th Grade
11th Grade Reading
11th Grade Writing
12th Grade
12th Grade Reading
12th Grade Writing
1st Grade
2nd Grade
3rd Grade
3rd Grade Science
4th Grade
4th Grade Science
5th Grade
5th Grade Science
6th Grade
6th Grade Science
7th Grade
7th Grade Science
8th Grade
8th Grade Science
9th Grade
Adult Literacy
Anatomy & Physiology
CLEP Introductory Psychology
College Biology
Drawing
Elementary School
Elementary School Science
High School
High School Biology
High School Chemistry
High School English
High School Writing
Homework Support
Human Development
Medical Terminology
Middle School Science
Neuroscience
Other
Painting
MCAT Psychological, Social, and Biological Foundations of Behavior
Social Sciences
Study Skills
Study Skills and Organization
Summer
What is your teaching philosophy?
My teaching philosophy is that no two people learn in the same way. For this reason, I put a lot of time and effort into getting to know individuals and create individualized plans to help them achieve their goals. I am a very patient and compassionate person, and I will devote all the outside time necessary to ensure I am able to provide an individual with the best tutoring plan possible. With these individualized plans, not only do I take into account the style in which someone learns the best, but also their interests and personal motivations. I will also provide multiple perspectives on the topics students are learning. I have learned from experience that this often promotes deeper understanding of the topic and may help students learn the topics easier if their teacher/professor's perspective isn't one they easily comprehend.
What might you do in a typical first session with a student?
In the first session I would like to get to know the student and their interests and introduce myself as well in order to create a comfortable environment. I would also find out what their goals are for tutoring along with any other personal goals they may have. I will work with the student and/or their parents to come up with ideas for creating the best plan of action possible and which areas we should focus on first.
How can you help a student become an independent learner?
There are many ways I would help students become independent learners. I would also ask their insight on how well they think they are doing and in which ways they believe they can improve. I will also ask their opinions on how we should approach problems and offer any study skills and advice I have. I would increase the amount of independence I expect from the student on a gradual basis in order to help them develop the skills easily without becoming overwhelmed or feeling pressured.
How would you help a student stay motivated?
I would help a student stay motivated by incorporating their personal interests and goals into the lessons. Not every student is going to find the same topics interesting or relate to the topics. For this reason, I strongly believe that creatively associating the topics with their interests or discussing how the subject will help them achieve their goals to help foster motivation, even in the student's least favorite subjects.
If a student has difficulty learning a skill or concept, what would you do?
I take the time to break down the skill or concept down into the smallest pieces possible. I then work with the student to approach each piece individually and work up to understanding/mastering the skill or concept as a whole. If the student becomes frustrated or overwhelmed due to their difficulty with it, I give them a break and work on stress management skills if they desire to learn them. I will patiently devote as much time as it takes the student to learn the skill or concept and will approach the skill/concept from multiple perspectives and learning styles until we find one that fits the student.
What techniques would you use to be sure that a student understands the material?
I will use practice tests whenever it is suitable. I will also switch roles with the student and ask them to teach me the material. If they are able to explain the material in their own words and answer my questions, it is a clear sign they understand the topic.
How do you build a student's confidence in a subject?
I would point out their strengths and improvements each session. It is easy to focus on the areas that you are struggling with, and that decreases confidence. By pointing out improvements and areas that the student is doing well in, they will feel more confident and approach the difficult areas with a more positive attitude.