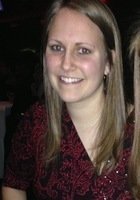 Rebecca
Certified Tutor
I received a Bachelor's Degree in Mathematics and Kinesiology with a minor in Human Biology from Valparaiso University. While in college, I was extensively involved with my school's Academic Success Center program, where I became one of the most widely-known university math tutors. I primarily tutored college Calculus, but I also have experience with tutoring Pre-Calculus, Trigonometry, Algebra II, Geometry, Algebra I, and Pre-Algebra. After college, I moved to Memphis. I am currently a high school Algebra I and ESL teacher. Due to my ESL experience, I have experience teaching math in Spanish. I am not perfectly fluent in Spanish, but my level of Spanish has been sufficient for teaching math lessons 100% in Spanish. I have experience with preparing my high school students for the math ACT and SAT tests as well.

I absolutely love tutoring, teaching, and preparing people for educational success! In my free time, I enjoy playing soccer, running, and doing arts such as oil painting and wood burning.



Subjects available to tutor:

-Calculus I
-Calculus II
-Multivariable Calculus
-Pre-Calculus
-Trig
-Algeba II
-Geometry
-Algebra I
-Pre-Algebra
-Algebra III/IV
-SAT math prep
-ACT math prep

Education & Certification
Undergraduate Degree: Valparaiso University - Bachelors, Kinesiology and math with biology minor
Hobbies
tutoring, teaching, learning, soccer, running, wood burning, oil painting
What is your teaching philosophy?
My teaching philosophy is not to just teach procedurally in response to a test/homework question, but to diagnose and fix a misconception or knowledge gap, and then connect all pieces to the larger picture.
What might you do in a typical first session with a student?
In a first session with a student, I would assess my student's current level of content understanding and learning type. Then I would ask questions to understand the expectations their teacher has for their course. We would then go over some content for the subject, and discuss a plan for future sessions.
How can you help a student become an independent learner?
I can help a student become an independent learner by leading my sessions in a more "student-lead" fashion. Instead of me walking my student through the problem, I would ask questions and have them prove their answers to me by showing me their thought process. When appropriate, I would also direct their first questions to their notes/outside resources instead of me.
How would you help a student stay motivated?
I help students stay motivated by giving them opportunities to let the prior knowledge they have shown while solving more complex problems. This will boost their confidence, as well as help them connect all the pieces of math to a larger whole.
If a student has difficulty learning a skill or concept, what would you do?
I would break down the problem to the last related concept they understood, and build the new idea off of the material they previously understood.
How do you help students who are struggling with reading comprehension?
I have them pause frequently while reading to summarize what they just read before continuing. This also becomes important during math word problems in order to find the underlying question and important details.
What strategies have you found to be most successful when you start to work with a student?
The strategies I find most successful when starting to work with a student is to teach in a 100% conceptual way and to never teach procedurally. From there, I have students solve problems independently, and discover their own mistakes based on their conceptual understanding.
How would you help a student get excited/engaged with a subject that they are struggling in?
To build engagement, I show how menial or tedious math skills relate to real life (and in particular, their life).
What techniques would you use to be sure that a student understands the material?
To show that a student understands material, I have them try problems by themselves, and then walk me through an explanation of how their answer is correct, or how a particular answer is incorrect.
How do you build a student's confidence in a subject?
I build a student's confidence in a subject by starting out with simpler problems of a specific topic, and then building into more complex problems at a rate appropriate to the individual student.
How do you evaluate a student's needs?
I evaluate a student's needs when I assess their misconceptions and knowledge gaps over a certain topic.
How do you adapt your tutoring to the student's needs?
I adapt my tutoring to the student's needs by not just teaching to the homework or test problem, but by beginning with the underlying concepts they need help with first in order to close their content gap.
What types of materials do you typically use during a tutoring session?
During an in-person tutoring session, I use paper, pencil, calculators, and textbooks/worksheets. Sometimes I will also use a whiteboard.