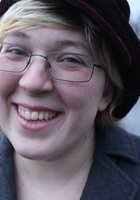 Dana
Certified Tutor
I've been tutoring since 2006, with a particular focus on helping students who suffer from severe math anxiety and/or attention difficulties. I love helping those students who don't see themselves as capable of understanding science and mathematics discover that excellence is possible for them.

*

After almost ten years of professional tutoring and freelance writing without a college degree, I graduated this spring with a bachelor's degree from St. John's College.

At St. John's, there is only one degree. You earn it by completing an all-required curriculum that integrates a study of philosophy, literature, language, history, theology, political science, music, four years of required mathematics, and three years of required laboratory science.

All subjects, including electrodynamics, quantum theory, and non-euclidean geometry, are approached through the intensive reading and analysis of original, field-changing texts.

*
I wanted to share an excerpt from a satisfied client's letter of recommendation:

6-12-2011

To whom it may concern:

I'm quite certain that your school receives countless glowing letters of recommendation for each applicant, so my hope in writing this letter is that my exuberance concerning Day H. is received as noteworthy and meaningfulnot just the emotional gushing of a Day H. fan!

I have a difficult to motivate child that has been diagnosed with Asperger's syndrome. He has always been very bright, but very difficult to motivate.

***Day has worked miracles with him. She has planned out curricula for him, and over time helped him to become extremely engaged in his work and interested in growing. She was able to work through the roadblocks that educationally have held him back from high achievement. Specialists and teachers through his school were unable to do the same. Day has a gift.***

Day is extremely good at taking the initiative to map out a course of action. . . She has done this for my child.

She is one of the most well-read individuals I have ever encountered in my lifetime.

While she herself shows great academic promise, she is also willing to recognize that there are those that have gone before her on which she can build her ideas. In this way, she is respectful, and not the unmanageable, egocentric academic we find often in scientific circles.

Furthermore, the discussions we have enjoyed together have always been substantial and engaging. They have also been peppered with new insights for both of us. We often have differed in opinion as well. In many an academic discussion when differences in opinion arise, reasonable interaction often turns into hot and inflammatory debate. Day has shown the ability to touch on hot-button topics with grace and professionalism, maintaining her reason and respectfulness all the way. Even though we have left the discussion "agreeing to disagree" we have done so on very amicable terms. In today's world of such differing opinions, the ability to look at a topic and see both sides of an argumentand maintain decorum in the discussionis a rare and useful gift.

It has been very enlightening and engaging to see her take new paths in her life. She has always wanted to make great change for the good in society, and to give hope to those that have been presented with less opportunity in life. Constantly she is looking for opportunities to give back, or to contribute in a meaningful fashion.

Please feel free to contact me with any questions.

(Name withheld for privacy, available with contact info by individual request)

Education & Certification
Undergraduate Degree: St. John's College - Bachelors, Liberal Arts (Philosophy, history of math and science)
Hobbies
Reading, writing, traveling, entertaining, art, music
Tutoring Subjects
College Biology
College English
Ecology
High School Biology
High School English
Life Sciences
Other
Summer
What is your teaching philosophy?
I really believe in my students. Many folks who come looking for a tutor have been failed by American education systems, and don't realize how capable they can be. Because of this, I like to focus on meeting students exactly where they are. Once I understand a student's strengths, we often find ways to use those strengths to work through material the student never thought they could conquer.
What might you do in a typical first session with a student?
Unless the student is in crisis about a specific test or deadline, the first meeting is all about evaluation: evaluating the student's academic strengths and weaknesses, yes, but also evaluating what they care about, and how we might plug into that. Working hard for great grades is much easier for folks who can see that work contributing to their dreams.
How can you help a student become an independent learner?
I find it very important to help students master the language of the discipline I'm helping them in. Asking good questions and searching for good resources are key parts of teaching yourself! I also focus on cultivating the discipline of learning outside school, which I find ultimately makes for great students, whether they're getting tutoring or not.