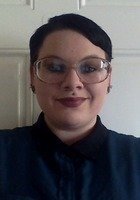 Caitlin
Certified Tutor
I'm an avid learner and would love the opportunity to spark a similar passion in other students. I don't believe in just teaching individuals the facts, but I enjoy helping them to also develop their innate learning abilities. My approach would center on encouragement and mutual respect above all else.
I attended Crossroads College Preparatory School for seventh through twelfth grades. After one year at Reed College in Portland, Oregon, I transferred to Webster University here in Saint Louis.
Although I am currently a journalism major, I am interested in a wide range of academic subjects from science to literature. Outside of school, I enjoy making art and spending time with my dog, Juniper.
Education & Certification
Undergraduate Degree: Webster University - Current Undergrad, Undeclared
Test Scores
ACT English: 36
ACT Reading: 34
ACT Science: 35
SAT Composite (1600 scale): 1470
SAT Verbal: 750
SAT Writing: 740
SAT Subject Test in Literature: 770
SAT Subject Test in U.S. History: 780
Hobbies
Art, reading, music
Tutoring Subjects
American Literature
Biomechanics
College Level American Literature
Comparative Literature
High School Level American Literature
What is your teaching philosophy?
I have to paraphrase Socrates and say that I can't teach anyone anything; I can only make them think. For me, it's not just about getting a student to the right answer, but more about challenging them to arrive at it on their own. I really want to encourage students to tackle questions and problems from various perspectives to find what works best for them personally.
What might you do in a typical first session with a student?
I would definitely want to identify what type of learner the student is (whether they respond better to visual, auditory, kinetic, etc.). I would then be able to tailor future lesson plans to this student in particular.
How can you help a student become an independent learner?
Always encourage the student to ask questions. If they don't understand how an answer was reached, they need to be comfortable saying so. This way, they will be able to develop their own critical thinking skills and arrive at answers on their own. It is also important to find what they are passionate about.