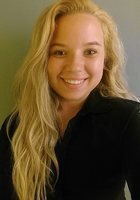 Laila
Certified Tutor
I am currently in my third year of college at Southern Illinois University in Edwardsville, hoping to graduate with my Bachelor's in Science for Biochemistry, and then go on to Pharmacy School for my Pharm.D! My first year of college I went to THE Ohio State University... GO BUCKS! With that being said, I love sports. Soccer is my favorite and I have played my whole life. I also played basketball and volleyball in high school. In my spare time, I either play sports with friends or work out! I love going to the gym and lifting weights. I am tutoring Algebra 1, 2, 3/4, Elementary Math, Geometry, Middle School Math, and Pre-Algebra. I have always had a passion for math. I believe working through problems and having a step by step plan is the best way to learn math. As they say in sports, you can also say in math.... "PRACTICE MAKES PERFECT!"
Hobbies
Soccer, volleyball, basketball, working out, math!
What is your teaching philosophy?
It is always best to explain, give an example, and let the student execute. The three E's can be repeated as necessary!
What might you do in a typical first session with a student?
It is always important to understand the student's weaknesses and strengths. How they learn is best to examine.
How can you help a student become an independent learner?
Explain that it takes patience to understand a topic. Try your best and, if you absolutely don't understand, refer to a resource.
How would you help a student stay motivated?
Always reward! Whether it be candy or a 5 minute break. Everyone has their own goals.
If a student has difficulty learning a skill or concept, what would you do?
Start with the basics. Return to an easier problem. Bring it down to step by step and explain each step clearly.
How do you help students who are struggling with reading comprehension?
It is always best to underline the important parts of a text. Rewriting the ideas of the question will help outline what is given in the question and what is not necessary to solve the problem.
What strategies have you found to be most successful when you start to work with a student?
Be a student as well as a teacher. It is always best to show the student that you went through the same topics in school and understand what it's like. Step in the student's shoes.
How would you help a student get excited/engaged with a subject that they are struggling in?
Be outgoing with every lesson. As long as the teacher is excited, the student will become more engaged.
What techniques would you use to be sure that a student understands the material?
Problems. Problems. Problems. Being a kinetic learner is one of the most common forms of learning. The student needs to be able to understand the problems on their own without any help.
How do you build a student's confidence in a subject?
Practice always makes perfect!
How do you evaluate a student's needs?
It is always best to ask first, and then identify as the problems go on. Always ask questions. Sometimes students tend to nod their head in agreement without actually understanding.
How do you adapt your tutoring to the student's needs?
It is always best to examine how the student learns the best. Each student is different and has their own ways of learning.
What types of materials do you typically use during a tutoring session?
Paper, pencil, calculator and the textbook are the most important pieces for learning.