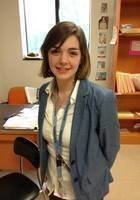 Hannah
Certified Tutor
"Education is the most powerful weapon which you can use to change the world."
This Nelson Mandela quote perfectly sums up why I decided to go into education. My passions are education policy, educational equity, and most importantly, students. I'm currently a high school Spanish teacher in Baltimore City and I have been tutoring or teaching for nearly 7 years: 3.5 years of tutoring elementary students during undergrad and 3 years of teaching high school. I earned my BA in International Studies and Spanish and my MS in Education, both from Johns Hopkins University. When I'm not thinking about educational issues or the next day's lesson plan, I'm going to concerts, doing yoga, or reading.

I am incredibly excited to work with students of all ages and backgrounds on a variety of subjects, including Spanish, English, SAT Verbal/Writing, History, etc. Whether you need an extra challenge or a new way of learning previously taught material, I can help you achieve your academic goals and prepare for your next steps in academia and beyond. It is my deeply held belief that success in school is achievable so long as you are willing to work for it. Together, we will make it happen.
Test Scores
SAT Verbal: 750
SAT Writing: 710
SAT Subject Test in Literature: 790
SAT Subject Test in U.S. History: 760
SAT Subject Test in Biology E/M: 760
Hobbies
Yoga, music (listening & concerts), reading, and advocating for better public education in Baltimore.
Tutoring Subjects
AP US History
College English
College Level American History
Comparative Literature
Conversational Spanish
High School English
High School Level American History
SAT Subject Test in Spanish with Listening
SAT Subject Test in United States History
SAT Subject Tests Prep
Spanish 1
US History