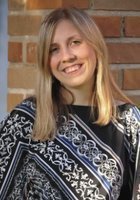 Lesleigh
Certified Tutor
In 2013 I graduated from Houston Baptist University with my Bachelor of Arts in English and Biblical Languages. I minored in Latin and received the outstanding student award in English. After my BA, I moved from Houston to Boston with my husband. In 2015 I earned my MA in Classical Studies from the University of Massachusetts in Boston, focusing on Greek and Latin literature. I am currently working on my PhD in English Literature at Southern Methodist University. I specialize in the intersection between ancient texts and Christianity as it is evident in Renaissance literature. During my MA I worked as a teacher's assistant, learning teaching strategies from many distinguished professors. Students met with me one on one to discuss assignments, work on papers, and review for tests. During these years I had the opportunity to work with several ESL students and students with disabilities. Being deaf in my right ear gives me a unique perspective when working with students struggling with disabilities because I have fought those battles myself, albeit to a smaller degree than some. I firmly believe that disabilities should never stand in the way of learning.

I currently teach DISC writing courses at SMU and help students make sure that their writing is up to the collegiate level. I also work with an ESL program in the Frisco area. In this program, I help students of all levels in their journey to learn English.

I love literature, and I hope to be able to share that joy with others. I am always happy to help students improve their writing and expand their vocabularies, regardless of the language. When it comes to test prep, my knowledge of Latin and Greek allows me to point out roots of words that will enable students to determine vocabulary definitions much faster. A good education provides a strong foundation for life, and I love helping others establish that firm ground from which they will continue to grow. I am always challenging myself by reading new books and articles.

Throughout my life, I have studied Spanish, Latin, German, Hebrew, Greek, Old English, and Japanese. This strong background in foreign languages means that I am intimately familiar with the language acquisition process, and I love using that background to help others take their first steps with a foreign language. I firmly believe that learning another language should be fun and that it is one of the most rewarding journeys a person can take. When working with children, I like to use items that they already know and love to help them learn.

Education & Certification
Undergraduate Degree: Houston Baptist University - Bachelor in Arts, English
Graduate Degree: UMass Boston - Master of Arts, Classical Studies
Test Scores
SAT Composite (1600 scale): 1430
GRE Verbal: 165
Hobbies
Reading, Writing, Scuba Diving, and Hiking.
Tutoring Subjects
Adult ESL/ELL
American Literature
British Literature
Classics
College English
College Level American Literature
Comparative Literature
Conversational Spanish
Fiction Writing
High School English
High School Level American Literature
High School Writing
Introduction to Fiction
Introduction to Poetry
Latin 1
Medieval Literature
Microsoft Office
Middle School English
Middle School Reading
Middle School Reading Comprehension
Middle School Writing
Other
Spanish 1
Technology and Coding
What is your teaching philosophy?
My goal in teaching is to help students learn new material and overcome roadblocks in their studies. Learning new material can be hard work, but that does not mean it cannot be fun. I like to play games with my students and relate the topics to things that they enjoy. I endeavor to help my students learn by creating activities that urge them to use as many areas of the brain as possible while learning so that they better retain the information. My goal is for my students to understand the material, not just memorize it. I am patient and will work with a student for however long is necessary to reach that goal of comprehension.
What might you do in a typical first session with a student?
In a typical first session, I want to assess that student's current skill level. To do this, I would first ask the student for their own assessment of their skills. It is important to know what the student thinks they can and cannot do, then work from there. I would review recent assignments and have the student look at some material on the spot. I would then work through that material with the student. After identifying a primary issue, I would assign the student a task to work on before our next meeting. At the end of the meeting, I would talk with the student about problems that I had seen and make sure that the student understands how I would help them overcome those problems.
How can you help a student become an independent learner?
A primary goal of education is to teach students how to think through problems and approach them with a plan. No matter what the subject, my goal is always to help students understand the foundations of that subject to be able to determine the solutions to problems by themselves. The last thing I want my students to do is memorize facts and not understand the principles behind them. To become an independent learner, a student must learn how to process everything and draw conclusions based on their previous knowledge. To help students achieve this, I try to lead students to figure things out on their own instead of just explaining everything to them immediately. To do this, I would do things such as draw analogies between the subject and something that I knew the student loved. At the end of the session, I would have the student explain everything they had learned that day to me. After all, it is said that you do not really know something until you have had to explain it to someone else. Forcing the student to vocally explain the subject also confirms to them that they do know the material and gives them more confidence to tackle the next subject.
How would you help a student stay motivated?
Motivation can often be an issue of confidence, so I would do what I can to make sure that the student remains confident in his or her abilities. Often, I find that students know far more than they realize, and once they understand that fact, they are able to move on with more enthusiasm. Motivation can also be caused by not being interested in a certain subject. To help with this, I would show the student how the subject could benefit them. I would also relate the subject to things that the student does care about.
If a student has difficulty learning a skill or concept, what would you do?
If a student was experiencing difficulty with a specific subject, I would try to approach that subject from different angles. People learn things differently, and sometimes all it takes is different wording in order for something to click in the student's head. I would encourage them not to give up, and I would alternate between the problem area and another subject so that the student would not get discouraged by lack of progress. This would also enable the student to look at the topic with fresh eyes, another approach to helping the student overcome that specific roadblock.
How do you help students who are struggling with reading comprehension?
Often students understand more than they realize. I would have students read progressively larger chunks of text, each time writing a summary of what happened in that text before they moved on to the next chunk. Then I would have the student look over the summaries in order to remind themselves of what was in the text. I would then talk through the text with the student, focusing on any problem areas. I would then wait a while before returning to the text and having them read it through, this time writing fewer or no summaries, and see how much they were able to understand that time. We would repeat this process, gradually, using fewer and fewer summaries until the student was confident in their level of reading comprehension.
What strategies have you found to be most successful when you start to work with a student?
Students learn the most when you as a teacher force them to think through the problem on their own. For example, when working on editing a paper with a student, the student is more likely to remember a grammar issue if they have a chance to try to determine the problem. If a student is having trouble writing a paper, I have found that often planning it out loud and talking through the ideas helps them focus on how to organize their thoughts on paper. Talking is often much less daunting than writing. Another successful strategy is to involve as many parts of the brain as possible in the learning activity. This means that I like to do a lot of games and activities with my students. Acting out verbs and singing songs may feel silly, but it helps the student remember the words much better than simply reciting them and looking at a piece of paper.
How would you help a student get excited/engaged with a subject that they are struggling in?
First, I would focus on what the student does understand so that the student feels less discouraged. I would then approach the subject from different angles to see if I could help the student understand by explaining the concept in a different way. I might also take a break from the concept so that the student does not become discouraged and can return to the issue with fresh eyes.
What techniques would you use to be sure that a student understands the material?
Before changing topics in a session, I would have the student go over what they learned in each area. I would also reserve the last 10 minutes or so of the session for the student to go over the material from the whole session. I would then start the next session by having the student review the material from the last session so that I could be sure that they still remember the material.
How do you build a student's confidence in a subject?
Students often do not realize how much they know and how much they have learned in a subject. Instead, they focus on what they do not know. While this is understandable, reminding the student how far they have come goes a long way in helping them to gain confidence. It is also important to remind the student that everyone learns things differently and at different paces. Just because they do not understand something quickly does not mean that they are incapable of grasping the material; it just means that they need to keep looking at the problem from different angles in order to unravel it. The important thing is to never give up. If a student encounters a problem area and feels discouraged, I would remind the student of past problem areas that the student had been able to overcome.
How do you evaluate a student's needs?
First, I ask the student what problems they think they are having, as it is important to be aware of what the students think are their main problems. I would also look at their prior work to see where they were having problems on assignments. I would also bring a short story and work through the story with the student, asking grammatical and comprehension questions. From there, I would work backward to determine the most foundational issue and work on solving that first, then move to decreasingly less pressing problem areas. During our sessions, I would pay attention to what activities seemed to help the student most, then focus on building activities similar to those for future sessions. Throughout my time with the student, I would provide more stories for the student to read so that I could reevaluate the student's progress.
How do you adapt your tutoring to the student's needs?
Each student learns differently, so I would pay attention to any information the student provides about their learning style. I would also adapt my activities to the types of activities that I see working for the student. I also pay attention to the student's general likes and dislikes so that I can make comparisons to topics with which the student is already familiar. By comparing familiar ideas to unfamiliar ones, I hope that the student will be able to understand the unfamiliar ideas with greater ease.
What types of materials do you typically use during a tutoring session?
I like to rely on activities, which usually either have no materials or involve puzzles that I have made. I have several Spanish, Latin, and English books that I draw upon for exercises. I also like to use short stories to increase the student's exposure to the language and to test their skills on material originally composed in the language for native speakers.