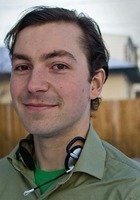 Alexander
Certified Tutor
I am a software engineer and logistics specialist with a B.S. from the College of Science & Engineering at the University of Minnesota.

I have been a tutor in Minnesota for 10 years. I have taught a wealth of subjects at grade-levels 4th through 12th as well as college graduates and undergraduates. I am most frequently consulted for tutoring in General Writing, Mathematics and Computer Science. Those have been the trend, but not the extent, of my tutoring experience. I am proficient and proven in tutoring a vast number of subjects.

I enjoy tutoring because gaining, sharing and inspiring knowledge is a part of who I am. I treasure the chance to watch the unique intelligence of people around me unfold. It's an adventure to encounter and systematically overcome problems put in front of us, as a team. I passionately practice that teamwork-focused approach to tutoring, and my tutees and I have a thrill in that intellectual voyage.

In my spare time I like to travel throughout the vastness of the world and the minds of people within it. I hope that in this travel, I will have the opportunity to reach even more talented minds whom I can support in their drive for knowledge and success.
Test Scores
ACT Composite: 32
ACT English: 30
ACT Math: 35
ACT Reading: 30
ACT Science: 32
SAT Composite (1600 scale): 1450
SAT Math: 710
SAT Writing: 740
Hobbies
Swimming, hiking and app prototyping
Tutoring Subjects
BASIC
Basic Computer Literacy
C#
C++
College Computer Science
College English
Computer Programming
Conversational German
Elementary School Math
German 2
High School Computer Science
High School English
HTML
Java
JavaScript
Linux
Mac Basic Computer Skills
MATLAB
Microsoft Excel
Microsoft Office
Other
PC Basic Computer Skills
Photoshop
SAT Subject Test in Mathematics Level 1
SAT Subject Test in Mathematics Level 2
SAT Subject Tests Prep
Summer
Technical Writing
Technology and Coding