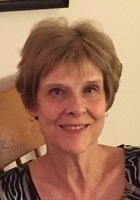 Tessa
Certified Tutor
I am an experienced University of Pennsylvania Spanish Instructor.

I am a near-native speaker of Spanish with extensive travel experience in Mexico as well as four years residing in Spain. I hold an undergraduate degree in Spanish from Southern Methodist University, a Master's degree in Spanish from Indiana University, and an M.Phil. (all doctoral work except for dissertation) in Spanish from New York University.

I just ended a five-year nonrenewable teaching contract with the University of Pennsylvania in which I was awarded the department Certificate of Excellence for Spanish teaching at the Lecturer Level. I enjoyed high student ratings and can provide excerpts from those ratings on request.

I love helping students learn the Spanish language, and I like to make the learning engaging and pleasant as well as challenging. I think learning songs is one of the best ways to learn a language, and I encourage students to do this. I am very interested in accent remediation and I believe that almost all students are capable of significantly improving their accent with practice and awareness of some of the phonetic differences between English and Spanish.
Hobbies
Literature, languages, theology, history, singing are her hobbies/interests.