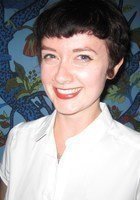 Eva
Certified Tutor
Although I love travel and have lived both overseas and across the country, I always come back to my hometown, Portland, Oregon. After earning a partial International Baccalaureate degree, I moved to England to pursue a science degree when I was eighteen. While I was there, however, I realized that I needed to focus on my true passion, writing.
I came home and earned my BA in English with a minor in writing at Portland State University. Then, I took a few years off from school and traveled all over the United States. Two years ago, I began my Master of Fine Arts in Writing at Pacific University. It's been a wonderful experience, and I'm very lucky to have worked with some superb writers.
Writing is communication. It's not words on a page, and it's not just an essay or a novel or the manual to our new blender. It's the storytelling we do on a day to day basis. It's about presenting our own personal knowledge to the world and making a connection. It is vital. Not everyone is a writer, but everyone needs to know how to say: "Here, let me tell you this," and have others understand.
When I'm not doing homework, I'm working on my personal writing or art projects. I have two dogs that get walked everyday on the trails near my house, and sometimes I even find time for a ride on my road bike or a hike with one of my friends.
Hobbies
Reading, writing, art, dogs, the outdoors
Tutoring Subjects
AP Studio Art: Drawing
Art
College English
Comparative Literature
High School English
IB Visual Arts
IB Visual Arts HL
IB Visual Arts SL