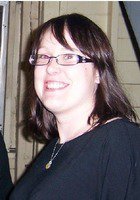 Melissa
Certified Tutor
After graduating from high school I joined the United States Marine Corps. I spent 4.8 years in the corps, and was stationed overseas the entire time (Okinawa, Hungary, Kosovo). I have traveled to over 15 countries, and have developed a fascination for learning about different ethnic cultures. I enjoyed my time in the corps, and do my best to always try to incorporate my stories into my lesson plans. I am currently pursuing my TESOL certificate (Teachers of English to Speakers of Other Languages).

For over 10 years I have tutored fellow students, coworkers, high school students, college students, ESL learners, and adults. During my undergrad program I was a writing tutor for not only fellow University Of Illinois at Chicago students, but also for students at Jones College Prep. During my graduate program I also tutored at Jones, and at Whitney M. Young Magnet School. I enjoy tutoring because I like helping students make sense of difficult topics. I also enjoy meeting new students, and forming a strong rapport.

In order to create a successful tutoring session I believe the session must be student centered. During my student teaching experience at Whitney M. Young Magnet School I learned the importance of establishing rapport with the students. A strong rapport helps to create a relaxed learning environment. I also keep my lessons interesting by intertwining current events, my own personal experiences, and technology together. By using multiple teaching strategies I can cater to all learning types, since every student learns in their own unique way.


Hobbies
Going to the movies, reading books-especially non-fiction, walking the dog, traveling, and using Groupon to discover new things to do in Chicago
Tutoring Subjects
AP US History
College English
College Level American History
College World History
Comparative Literature
High School English
High School Level American History
High School World History
Other
Study Skills
Study Skills and Organization
Summer
US History