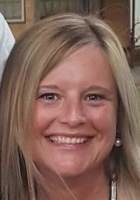 Marilee
Certified Tutor
I am a certified teacher in Oklahoma. I have spent about the past thirteen years in different facets of education, the past eight as a certified teacher. I received my certification by taking the alternate route. I have a wide variety of working experience. I started out as a parent volunteer assisting teachers with whatever they needed, then onto substituting, followed by being a special education paraprofessional, then a paraprofessional for an autism student, I then finally decided to get certified. Once certified my first job was a third grade general education teacher in which I worked for three years. I transferred in-district to another position as a special education teacher for emotionally disturbed students, I held this position for one year. I then moved to another district and worked as an elementary special education teacher. While there I received a call from a district closer to home offering a job teaching special education at the high school level, teaching eighth grade reading and English and working with below level elementary students for an hour a day.

I have a passion for teaching and I believe it is my calling. I have excellent rapport with students as well as my co-workers. I have a strong work ethic and I am willing to learn, try new things and help out wherever necessary.
Hobbies
I enjoy hiking, hanging out with my family & boating, fishing, hunting, watching movies, hanging out with friends, attending church and traveling.
Tutoring Subjects
Elementary School
Elementary School English
Elementary School Math
Elementary School Reading
Elementary School Science
Elementary School Writing
High School English
High School Writing
Learning Differences
Middle School English
Middle School Reading
Middle School Reading Comprehension
Middle School Science
Middle School Social Studies
Middle School Writing