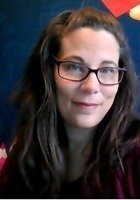 Jennifer
Certified Tutor
I am a recent graduate of Western Governors University. Go class of 2021! I received my Bachelor of Arts - Educational Studies in Elementary Education. I am passionate about helping others learn. My teaching style is fun, yet informative and I will work with you to find the best learning style for your personality. I enjoy exploring various methods to help students understand concepts. I can't wait to meet you wonderful students!

I am most passionate about Elementary Education, however, I am not opposed to helping other students.
Hobbies
I am a mom, so my hobbies consist of my children and their hobbies. I also homeschool my 2 youngest.
Tutoring Subjects
Elementary School
Elementary School English
Elementary School Math
Elementary School Reading
Elementary School Writing
Middle School English
Middle School Reading
Middle School Reading Comprehension
Middle School Social Studies
Other
PC Basic Computer Skills
Technology and Coding