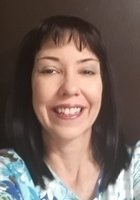 Heather
Certified Tutor
I am a graduate of Northern Arizona University in Flagstaff, Arizona. I received my Bachelor of Science in Public Health, and I am a certified ESL instructor. I have been teaching English to students online for almost four years. I have also worked as a substitute teacher in K-12 schools, teaching all subjects.

While I teach English and ESL, I am also passionate about all forms of Science and Public Health. In my experience, students learn best with a teacher who is patient, and when they are supported with visual aids and information. I believe education improves our quality of life, and helps us gain confidence in ourselves. I love teaching, because it helps people to understand the world around us.

In my free time, I like reading books, watching movies with friends, and doing gardening.
Hobbies
I like teaching, gardening, watching movies with friends, and reading books. I am fascinated with science, especially Anatomy and Physiology.