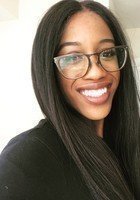 Tyla
Certified Tutor
Hello, I'm Tyla. I come from a long line of talented mathematicians and have had great success in math proficiency thanks to my amazing family and caring, attentive teachers. I currently have my Bachelor's of Science in Mathematics and am well practiced in a variety of subjects including Algebra, Trigonometry, Calculus, Multivariate Calculus, proofs subjects, and more. I have tutored elementary school, high school, and college students for 9 years.

Check out my YouTube channel "The Numbers Game" for more guidance on mathematic subjects.

I am excited to begin working with you!
Hobbies
Yoga, Rock Wall Climbing