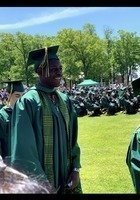 Tawe
Certified Tutor
I am currently a college student at Rutgers University, working towards a bachelor's in biomedical engineering and a master's in business administration. I am a former student-athlete and played football at Penn State before transferring to Rutgers, where I was forced to retire due to a knee injury. I currently hold an associate's degree in General Science from Raritan Valley Community College, which I earned through a dual-enrollment program while in high school.

I first gained interest in tutoring young students through a high school job at Mathnasium, where I found that I really do enjoy sharing my knowledge of math so that younger students can gain a deeper understanding and sometimes curiosity in what they're learning. I am capable of teaching a broad range of ages and topics, and have experience tutoring K-12 from my previous job at Mathnasium.

I look forward to helping your student achieve their true potential!
Test Scores
SAT Composite (1600 scale): 1460
SAT Math: 740
SAT Verbal: 720
Hobbies
Math & Sciences -Completed an Associates Degree in General Science during high school, college courses in Biology, Calculus, and Chemistry -Currently majoring in Biomedical Engineering at Rutgers University Sports -A two-sport athlete in high school (football and track) -A former college football player at Penn State and then Rutgers Universities before my knee injury forced me to retire