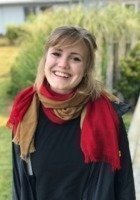 Bridget
Certified Tutor
While working towards my B.A. at Bowdoin College in Maine, I researched and wrote multiple academic papers per class under direct guidance from research librarians and professors. Now, I'm using that strong foundation in my career as a reporter while continuing to learn and grow through professional relationships and enrichment opportunities.

Prior to starting in journalism, I spent over five years working with middle and high school students as a tutor and one year as a classroom teacher in rural Slovakia. I have experience getting creative while teaching to specific standards, and I enjoy helping people set goals -- putting in place organizational systems that focus in on how to get from Point A to Point B. After years of working under intense deadline pressure, these systems have been crucial to me in my own work.

As a tutor, I want to continue building relationships with students and help them hone their written communication skills. Being able to write clearly (and creatively) has been a professional help and a necessary outlet in my own life, and I'm excited to share what I've learned.
Education & Certification
Undergraduate Degree: Bowdoin College - Bachelor in Arts, Studio Arts
Hobbies
Interests: nonfiction books, history, travel and gardening. Hobbies: creative writing, canoeing, camping, knitting and learning to be a better home cook!
Tutoring Subjects
American Literature
AP French Language and Culture
AP Studio Art: Drawing
Art
College Application Essays
College English
Conversational French
Drawing
Elementary School Math
Elementary School Writing
Fine Arts
High School English
High School Level American Literature
High School Writing
IB Visual Arts
Middle School Writing
Other
SAT Subject Test in French with Listening
SAT Subject Tests Prep