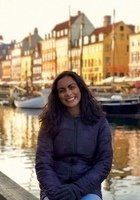 Kanika
Certified Tutor
I am currently a medical student at Brown University where I will be pursuing my MD and MS in Population Medicine. I recently graduated from the University of Connecticut where I triple majored in Molecular and Cell Biology, Anthropology, and Spanish. I have been teaching and tutoring for over four years to a variety of students with respect to age and background. Recently, I have been teaching and privately tutoring elementary and middle school students on English grammar and composition in Spain. Additionally, I am a Teaching Assistant for Biochemistry and Cell Biology at the University of Connecticut. At university, I also volunteer with English as a Second Language to help adults better their language skills. Prior to that, I worked with high school students on college essay writing and International Baccalaureate English and Biology exams. As such, my favorite subjects to tutor are Biology and English because I feel like I have the most background in these areas and, thus, am able to better guide my students through the content. While teaching, I like to use individualized approaches to fit the needs of each student. I also believe in an interactive approach based on thorough communication to engage my students as much as possible. With these strategies, I can build a friendly and comfortable environment conducive to learning. Outside of academia, I love being outside, traveling, and sketching!
Education & Certification
Undergraduate Degree: University of Connecticut - Bachelor of Science, Cellular and Molecular Biology
Test Scores
SAT Composite (1600 scale): 1560
SAT Math: 800
SAT Verbal: 750
SAT Writing: 750
MCAT: 519
AP Biology: 4
AP Chemistry: 5
AP Calculus BC: 5
AP English Language: 5
AP US History: 4
SAT Mathematics Level 2: 800
Chemical and Physical Foundations of Biological Systems: 130
Critical Analysis and Reasoning Skills: 128
Biological and Biochemical Foundations of Living Systems: 132
Psychological, Social, and Biological Foundations of Behavior: 129
AP Psychology: 5
SAT Subject Test in Biology E/M: 770
Hobbies
I enjoy reading and writing. I am also an avid traveler and love to spend time outdoors. I am interested in pursuing medicine and public health in the future.
Tutoring Subjects
American Literature
College Application Essays
College Biology
College English
Conversational Spanish
Elementary School
Elementary School English
Elementary School Math
Elementary School Science
Evolutionary Biology
High School Biology
High School English
High School Level American Literature
High School Writing
Hindi
IB Biology
Life Sciences
MCAT Biological and Biochemical Foundations of Living Systems
MCAT Psychological, Social, and Biological Foundations of Behavior
Middle School English
Middle School Reading
Middle School Reading Comprehension
Middle School Science
Middle School Writing
Molecular Biology
Molecular Genetics
Other
SAT Subject Test in Biology E/M
SAT Subject Test in Spanish with Listening
SAT Subject Tests Prep
Spanish 1
Study Skills
Study Skills and Organization