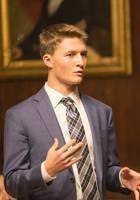 Maximilian
Certified Tutor
I am a graduate of Harvard University and candidate for an MA in American Government from Georgetown who knows firsthand the value of hard work and dedication, especially when it comes to standardized tests. I have grown tremendously through the help of tutors and mentors, and I credit much of my success to their guidance and strategies. When I'm not working on my course work or my research projects, I enjoy biking, hiking, and reading! I look forward to passing on my tips and strategies for how to succeed in the classroom, on the SAT, and on the LSAT!
Education & Certification
Undergraduate Degree: Harvard University - Current Undergrad Student, Political Science and Government
Test Scores
SAT Composite (1600 scale): 1600
SAT Math: 800
SAT Verbal: 790
SAT Writing: 800
LSAT: 170
SAT Mathematics Level 2: 800
SAT Subject Test in Physics: 800
SAT Subject Test in Literature: 800
Hobbies
Soccer, Chess, Politics, and Foreign Affairs!