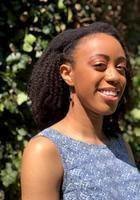 Stephanie
Certified Tutor
Hi! My name is Stephanie, and I am currently a Molecular Biology pre-med senior at Princeton University. My top subjects include both SAT and ACT Math, ACT Science, Biology, Calculus, and General Chemistry. During the academic year I work as a General Chemistry and Biology peer tutor at the on-campus tutoring center, and will be taking on the role as Study Group Leader for General Chemistry this fall. I love utilizing my former experiences to help and teach current students. I also volunteered as a peer tutor in my high school through the AVID program.

Because mathematical understanding was integral to success in my science classes in both high school and university, I focused on learning for understanding as opposed to learning to pass exams, which I believe has been very useful when teaching other students strategies and techniques needed for academic success in their math classes. The tutoring method that I have the most experience in involves utilizing what the student already knows in order to foster confidence with the subject material as well as problem-solving skills that are helpful in exam situations.

I have a strong science background stemming from both my high school and college curricula and I am sincerely passionate about these subjects as well. I've noticed that success in these subjects stems more from the understanding of the mechanics, whether it be of a biological system or just the scientific method, which is why I aim to make sure my tutees understand the core principles that eventually help them tackle more abstract and conceptual problems.

Feel free to contact me about questions relating to times, scheduling, and other possible subjects that were not included in the principal bio! I'm looking forward to meeting you all!
Education & Certification
Undergraduate Degree: Princeton University - Bachelor in Arts, Molecular Biology
Test Scores
ACT Composite: 35
ACT English: 36
ACT Math: 35
ACT Reading: 33
ACT Science: 34