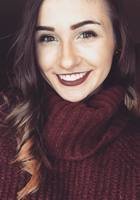 Olivia
Certified Tutor
I am a high school graduate from Chicago, Illinois and am currently a freshman at Central Michigan University, working toward my Bachelor of Science in Elementary Education with a focus on Cognitive Special Needs! Although it is not technically a "double major", this degree will fully certify me to teach Kindergarten through 8th Grade in a general education class, and Kindergarten through 12th in Special Education. My long-term goal is to get my Masters degree in order to become a professor and properly educate future teachers. Needless to say with this goal in mind, I need to gain experience in the field first. :)

Part of me has always known that working with children was something that I heavily wanted to pursue. Before deciding that Elementary Education was my path, I had very high interests in Child Psychology and Early Childhood Education. However, after getting the opportunity to work in a Kindergarten classroom my last year of High School, I had no doubt in my mind that I belonged in the classroom. I also was fortunate enough to help run the Little Mustangs Preschool, which gave me the chance to interact with little ones and really gain experience with learning how to break content down enough for them to understand. Both opportunities truly helped reassure that this path toward education is something I am destined to do. In addition, on the opposite end of the age-spectrum, I also tutored small groups within my Math courses my Junior and Senior year, and also worked in the Writing Center. Working with an older crowd definitely was a different experience, but it provided me with insight as to how to tailor to older student's needs and preferences with more complicated topics.

There are a multitude of reasons why I feel so compelled to work with children; the impact of learning is something so much bigger than most realize. In addition, children actually teach us so much more about ourselves than they realize. They help us practice patience, kindness, leadership and time management. Their bright-eyed personas are something that I want to surround myself with everyday, because it makes each day a new experience. Teaching is by no means a tedious, dull job and that is exactly what I am looking for. The excitement, hardship, love, and committment that comes with this job is something that I indefinitely want to be a part of.

Given that I have wide range of tutoring experience with varying ages, I would have to say that in all, my favorite subjects to teach are English and Math related. I prefer to work with a younger audience given that is where my field is, but I am more than willing to working with students of ALL ages as long as they need help in the specifed subject areas listed below. :) Regarding math, my take on it is as follows: as skills get more complex, students are required to continue to work on basic math skills that they learn in the beginning. Whether they realize this or not, they are continuously working on their Order of Operations and other simple skills that are required as math becomes more difficult. The same concept applies to English, as well. As students age and papers become more detail-oriented, they already have the basics down in regard to how to write a sentence, punctuation, and structure; the area of difficult comes with the fact that sometimes they just need a little guidance and clarification to set themselves up for success. As a tutor, my prefered style is figuring out where the root of the issue lies and going from there. Starting from the basics and continuing to help clarify points of confusion are especially relevant because it helps children continue to work through these educational building blocks while also ensuring guidance toward mastering a skill.

Outside of academia, I am very interested in reading. Given my passion for English, reading is something that I have always had an interest in. It gives me a chance to mentally relax while simulatenously stimulating the brain. I also enjoy spending time with family, friends, and volunteering at local organizations. Outside of my passion for children, I am also very passionate for animals; in my free time, you will probably find me volunteering for Pit Crew (a nonprofit organization) which is dedicated to helping take care of abandoned and hurt Pit Bulls seeking shelter and care.

If you have any further questions, feel free to look over my profile. I look forward to hearing from you soon!
Education & Certification
Undergraduate Degree: Central Michigan University - Bachelor of Science, Education of Individuals in Elementary Special Education Programs
Test Scores
ACT Reading: 32
Hobbies
My main "hobby" that I like to do in my free time is reading because it helps me relax while also stimulating my brain. I also love to write poetry in my free time. Something else you'll find me doing is spending time with my pets- I am a HUGE animal person! I actually volunteer for Pit Crew, which is a nonprofit organization that takes in abused/abandoned pit bulls. Our mission is to help bring these animals the TLC and shelter they deserve. In addition, I enjoy social activities as well, such as volunteering for the community and church.
Tutoring Subjects
College Application Essays
Discrete Math
High School English
High School Writing
Middle School Writing
Other
Study Skills
Study Skills and Organization