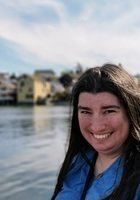 Amanda
Certified Tutor
When I was a child, I needed a tutor. I was fortunate enough to get one, and I'm standing on the shoulders of a giant. I have a Master's degree in education from Lynchburg College, and tutoring experience that dates back to 1995.
I've tutored Spanish, history, science, math, and English (lots of English! Dyslexia and other learning disorders are my specialty). I can't really say that I have a "favorite" subject. If I had to pick, I'd have to say a subject I'm not very familiar with - it's an excuse to learn something new!
I prefer tutoring to teaching primarily because I can tailor the lessons to the individual student. One-on-one settings mean I don't have to divide my attention between students, which I love because every student deserves undivided attention.
When I'm not tutoring, I'm writing, drawing, sailing, or singing. I also have a unabashed love of pop-culture pirates and Dungeons and Dragons.
Education & Certification
Undergraduate Degree: Judson College - Bachelor in Arts, English
Graduate Degree: Lynchburg College - Masters in Education, Special Education
Hobbies
I enjoy singing, writing, sailing, drawing, and harbor a healthy love of pop culture pirates.
Tutoring Subjects
Adult Literacy
College English
Elementary School Math
Elementary School Reading
Elementary School Writing
High School English
High School Writing
Middle School Reading
Middle School Reading Comprehension
Middle School Writing
Other
Study Skills
Study Skills and Organization