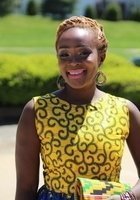 Hadie
Certified Tutor
I am a very passionate, motivated, energetic and outgoing person. Teaching has always been my passionate as I come from both parent being teachers for about 60 years between the two of them. The gratification it gives me to see the joy of my student or people who have encountered my teaching styles helps me grow everyday. I learn new things all the time when teaching and its that process that pushes me to become better at what I do. I
I teach elementary level subjects areas concentrating on ELL, English Language, Reading, Literature and all elementary subjects. I also teach English Language, Literature for all level of education. I have a Master in Education Elementary Literacy Option from University of Akron.
If am not teaching one of the things that I love doing is being a mum to my babies and also as a makeup artist. I love making people happy and I f I can spread that love and comfort to everyone I meet I would have succeeded as being the best version of myself and portray the values my parents instilled in me.

Education & Certification
Undergraduate Degree: Njala University of Sierra Leone - Bachelor of Education, General Literature
Graduate Degree: University of Akron Main Campus - Masters in Education, Elementary School Teaching
Hobbies
reading, doing makeup, playing with my children, dancing, and writing.
Tutoring Subjects
Adult Literacy
College English
Elementary School Math
Elementary School Reading
Elementary School Science
Elementary School Writing
High School English
High School Writing
Middle School Reading
Middle School Reading Comprehension