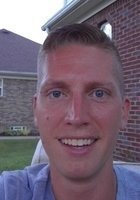 David
Certified Tutor
I got into teaching because I enjoyed tutoring so much. When I was active duty Air Force, I would help my coworkers with the one subject that seems to give everyone problems (pun intended), Math! I enjoyed it so much I got out of active duty and went to college to be a teacher. Eight years later, I still enjoy helping anyone with their math phobia and the struggles of mixing letters and numbers!

I am still in the Air Force Reserves and my experiences have taught me not to stress the little things in life. I have fun, I laugh, they laugh, and we get through these challenges together!
Education & Certification
Undergraduate Degree: University of Louisville - Associate in Arts, Mathematics Teacher Education
Hobbies
I love almost all sports, especially basketball! I enjoy spending time with my family playing board and card games, and I always look for Texas Holdem tournaments!