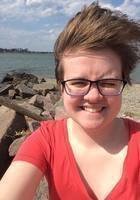 Kathleen
Certified Tutor
My name is Stevie and I am a 6th grade ELA teacher at Breed Middle School in Lynn. In May 2019, I received my license in English and Secondary Education with a Sheltered English Immersion endorsement (grades 5-12) and my Bachelor's Degree in English from Westfield State University.

Tutoring is one of my favorite forms of teaching. There is no better moment than when a student is able to figure something out in their own way (aka the lightbulb moment). I tutor a variety of subjects! I am well-rounded, though, my largest amount of experience is with Reading, Writing, ELA, Special Education, and test prep (SAT, MCAS, etc).

Hobbies
Writing poetry, reading, playing drums, traveling, hanging out with friends, playing video games, relaxing at the poolside/lakeside/beach, hiking, running, and, of course, teaching!
Tutoring Subjects
American Literature
British Literature
College Application Essays
College English
College Level American Literature
Composition
Drum
Elementary School English
High School English
High School Level American Literature
High School Writing
Middle School English
Other
Percussion
World Literature