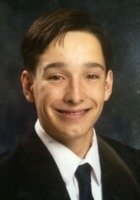 Joseph
Certified Tutor
I am currently receiving my college education at University of Minnesota Twin Cities. I am pursuing a major in biomedical engineering and a minor in math.
I have worked in the past with multiple students tutoring in various math courses.
I am excited to be a tutor working with Varsity Tutors because I enjoy helping others better understand math and science, my favorites.
Specific classes which I tutor include Calculus I, Calculus II, Algebra I, ACT Math and Pre-Calculus.
My favorite overall subject is Calculus I, which is a class I had to work hard on to do well. I ended the course enjoying Calculus and very well versed in the topic.
Test Scores
ACT Composite: 31
ACT English: 32
ACT Math: 32
ACT Reading: 30
ACT Science: 31
Hobbies
Fishing, Tennis, Robotics, Engineering