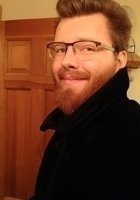 Timothy
Certified Tutor
My name is Tim, and I'm a tutor focused on Spanish, ESL, Political Science and History.

If you need to pass a test or a class, looking to improve your language abilities, or just want to learn, look no further. I don't just know these subjects- I live them. I am bilingual and have lived and worked for human rights organizations in Spain and Mexico.

In our first meeting, I will identify exactly what areas are your strengths and weaknesses and make a personalized plan.

I hope to meet you soon.

5 in AP US History.
2100 on SAT
BA in Political Science from Kenyon College.
Education & Certification
Undergraduate Degree: Kenyon College - Bachelor in Arts, Political Science and Government
Test Scores
SAT Composite (1600 scale): 1410
Hobbies
Biking, film, lifting weights.
Tutoring Subjects
AP Comparative Government and Politics
College Level American History
College Political Science
Conversational Spanish
High School Political Science
Political Science
Social Sciences
Spanish 1