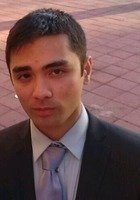 David
Certified Tutor
To further knowledge in the field of technology.
Education & Certification
Undergraduate Degree: Texas AM Corpus Christi - Bachelors, Systems Programming
Tutoring Subjects
Basic Computer Literacy
C++
College Computer Science
CSS
High School Computer Science
HTML
Java
JavaScript
SQL
Technology and Coding
What is your teaching philosophy?
Everyone who wants to will find a way.
What might you do in a typical first session with a student?
Review prior knowledge.
How can you help a student become an independent learner?
Teach the student how to learn.
How would you help a student stay motivated?
With proper teaching steps.
If a student has difficulty learning a skill or concept, what would you do?
Find alternative ways of solving or learning the skill. Help the student learn the reasons behind each step.
How do you help students who are struggling with reading comprehension?
Practice highlighting key words, and practice more reading prompts.
What strategies have you found to be most successful when you start to work with a student?
Asking the student questions while they work.