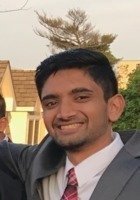 Rahul
Certified Tutor
I am a highly-motivated fourth-year Computer Engineering student at Rutgers University. I enjoy what I study and specialize in most math and science classes, and I love to mentor as much as I love to learn.
Education & Certification
Undergraduate Degree: Rutgers University New Brunswick - Current Undergrad, Computer Engineering
Test Scores
SAT Composite (1600 scale): 1510
SAT Math: 790
SAT Writing: 800
Hobbies
Running, Basketball, Football, Soccer, Hiking, Exploring Nature
What is your teaching philosophy?
Understand what the student knows by evaluating comprehension, speed, and accuracy. Ask the student for any techniques he/she has been using for the particular material. Gracefully introduce new techniques that work off of the student's pre-existing techniques.