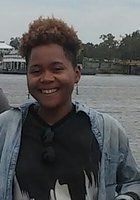 Rachel
Certified Tutor
I am a dedicated, highly motivated individual with a passion for enhancing the learning experiences of others. I have taught as a classroom teacher and as a volunteer at state and national parks for the past few years. I focus particularly on highlighting connections between various subject matter to individuals' everyday lives. After I graduated with my Masters degree from Johns Hopkins University in 2014, I moved to New Mexico to pursue a career in environmental conservation. I currently work as a supervisor for an AmeriCorps program that provides opportunities for young adults to gain skills working in the field of conservation while also receiving training for personal and professional development. I aspire to become a ranger with the National Park Service and a freelance writer.
Education & Certification
Undergraduate Degree: Johns Hopkins University - Bachelors, Public Health Studies
Graduate Degree: Johns Hopkins Bloomberg School of Public Health - Masters, Environmental Health Sciences
Test Scores
SAT Composite (1600 scale): 1430
Hobbies
Trail running, hiking, writing, reading, stargazing, meditating, singing
Tutoring Subjects
American Literature
Ecology
Elementary School Math
Elementary School Reading
Elementary School Writing
High School English
High School Level American History
High School Level American Literature
High School Writing
IB Philosophy
IB Psychology
IB Social and Cultural Anthropology
Middle School Reading
Middle School Reading Comprehension
Middle School Science
Middle School Writing
Social Sciences
What is your teaching philosophy?
My teaching philosophy is to meet students where they are. I believe that in order for students to gain a deep understanding of subject matter, they must be able to understand their relationship to it. When I teach, I encourage students to explore ways in which the subjects that they are studying are relevant to their lives.
What might you do in a typical first session with a student?
I would begin with some simple introductions so that we can each know a little bit about the other person's personal, educational, and work background. I would then ask the student what he/she would like to achieve through the tutoring that I provide. I would ask how the student likes to learn and strategies that the student has already used for studying the subject matter that I will be tutoring. Then, I would begin going on the specific assignment that the student has prepared for the tutoring session.