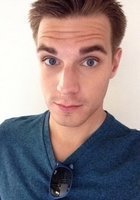 Andrew
Certified Tutor
I am currently a postdoctoral researcher at Northeastern University in Boston, MA working in cell biology. I have a B.S. and Ph.D. in Chemical Engineering from the University of Toledo (2010) and University of Pittsburgh (2016), respectively.

My research focus in graduate school was on the surface properties of materials, specifically graphite and graphene, and I have extensive background in surface characterization techniques. I also am very knowledgable in chemistry subjects and am quickly learning various aspects of biology and cell biology pertaining to the blood (immune system) as part of my research at Northeastern.

I have had great experiences tutoring and TA'ing in the past and found the work to be both rewarding (in helping others better learn a subject/topic) as well as beneficial for me (with reinforcing my knowledge, learning a topic I'm unfamiliar, and/or improving my teaching abilities). One of my goals as a tutor for Varsity Tutors is to teach subjects I'm passionate about, such as chemistry, to students who are interested in the topic but need some extra help. I have had wonderful tutors in the past help me in various subjects and believe I'm now at a point to help others better understand chemistry and various other topics, whether they want to pursue it as a major/career or be successful in the class. I'm excited to see what opportunities become available with Varsity Tutors and please feel free to contact me with any questions.
Hobbies
Exploring the city; traveling; going out for dinner; hanging out with friends; watching baseball games (Go Pirates!); cooking; reading; watching movies; essentially anything that will keep my interest, especially things that I can enjoy and also learn something new.
Tutoring Subjects
Analytical Chemistry
Chemical and Biomolecular Engineering
Chemical Engineering
Civil and Environmental Engineering
CLEP Prep
CLEP Chemistry
CLEP College Algebra
CLEP Precalculus
College Chemistry
COMPASS Mathematics
High School Chemistry
High School English
High School Physics
IB Biology
IB Mathematics: Analysis and Approaches
IB Physics
Immunology
Intellectual Property Law
Law
Mac Basic Computer Skills
Materials Science
Mechanical Engineering
Medicine
Microsoft Excel
Microsoft Office
Nuclear Chemistry
SAT Subject Tests Prep
Technical Writing
Technology and Coding
Thermochemistry
Thermodynamics
Virology
Visual Basic
What is your teaching philosophy?
There are several learning methods, and each student has their own unique style that allows them to best learn the subject. It is important to discuss with the student what they are having difficulty with, what they understand well, and how they learn. This will most often lead to the student gaining understanding when they are learning in a style that suits them.
What might you do in a typical first session with a student?
A first session should begin with simple introductions and getting to know each other a bit. Then we can begin discussing what the student is having difficulty with and how they like to learn. It's important to identify a teaching style that fits the student so that the tutoring session is beneficial to the student and they can learn the subject.
How can you help a student become an independent learner?
Becoming an independent learner is very much an acquired skill and takes time and patience for those students who are not naturally adept to learning independently. It is important to identify what motivates the student and determine how they can learn independently using strategies that keep them interested in learning as well as motivated to keep learning and gaining further understanding.
How would you help a student stay motivated?
Learning can be very draining, both mentally and physically. Sometimes, students will be exhausted and become unmotivated to learn. This is a very common and completely typical way for a person to feel, especially when learning a complicated subject. It is important for both the student and tutor to remain focused during tutoring sessions. It is also important for the tutor to realize when the student is feeling unmotivated (similarly, the student has an obligation to tell the tutor when they are feeling overwhelmed or unmotivated) so that this issue can be mitigated. Learning can be a fun and very rewarding endeavor, and it is important to be aware of how the student feels towards the topic and what motivates them to succeed.
If a student has difficulty learning a skill or concept, what would you do?
If a student has difficulty learning a topic/skill, it is important to identify why they are having difficulty. A different teaching strategy can be beneficial or trying a different approach to the problem. Often times, even setting the problem aside for a while and coming back to it with a fresh mind will improve understanding. It is difficult to provide a particular example for a nebulous situation, but identifying the situation for the particular student and determining what solutions are reasonable to improve their understanding are important.
What techniques would you use to be sure that a student understands the material?
When a student understands a topic, it is important to test their understanding. Basic problem solving is a good way to demonstrate understanding; however, solving simple or straightforward problems only demonstrates surface level understanding. I find it beneficial for students to solve more complicated problems with various aspects tying different topics together in order to demonstrate mastery of the material. This may constitute various forms for different topics, but in short, solving non-straightforward problems is a good method for testing a student's understanding.