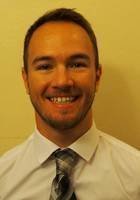 Jacob
Certified Tutor
Hello,

My name is Jake. I am currently getting my Masters in Secondary Education from Grand Canyon University. I am currently pursuing a career in teaching middle and early high school math. I believe that math is not just numbers, but a way to see and interpret the living world. I have experience teaching and tutoring in China, Thailand, Vietnam, and the US. I am also qualified to teach English as a Second Language.
Hobbies
Sports, travel, hiking, biking, video games, cooking, movies, reading
How can you help a student become an independent learner?
Students can become independent learners by developing skills in self-monitoring and communicating with their myself. It may also help if students are involved in the lesson planning process to foster responsibility in their own learning.
How would you help a student stay motivated?
Students need to be pushed to be intrinsically motivated. They should see the value in the education beyond the simple letter grade. Students should not be discouraged if progress is slow, but encouraged that they are better understanding the content in a meaningful way.
If a student has difficulty learning a skill or concept, what would you do?
The best way to help a struggling student is to break the skill down into smaller and simpler steps. Then, slowly walk through each step until full understanding is reached.
What strategies have you found to be most successful when you start to work with a student?
When first working with a, student it is important that I understand their strengths and weaknesses in the skills being worked. This way, I can cater to their strengths while placing an emphasis on developing their weaknesses.
How would you help a student get excited/engaged with a subject that they are struggling in?
The best way for students to get excited about a subject is to help them relate to it. Some subjects can be boring or uninteresting to students. However, an effective teacher can almost always relate the material in a way that allows students to appreciate it a little bit more.
What techniques would you use to be sure that a student understands the material?
There are many ways to test a student's mastery of the content. The simplest is of course to ask them to answer concept questions that they have not specifically answered before. Having an open discussion is also an excellent way to measure if a student understands the material and how it should be applied.
How do you build a student's confidence in a subject?
Confidence can be built by giving praise in the small victories. Students do not need to have mastered the material to be praised for their hard work. Attainable goals should also be set as a way to see and measure progress.
How do you evaluate a student's needs?
Students' needs can often be determined in a baseline assessment. Discussions with teachers and parents are also effective ways to determine a student's strengths and weaknesses.
How do you adapt your tutoring to the student's needs?
Each student has a different learning style. Some students may learn best by just practicing the material. Other students may need multiple walk-throughs. I will make sure to adapt my tutoring to how each student learns best.
What types of materials do you typically use during a tutoring session?
Technology is the greatest educational tool ever created. There countless resources available online in every content area. These, coupled with a knowledgeable tutor, give students a great chance a success.
What is your teaching philosophy?
My teaching philosophy is that experience is the best teacher. Students learn the best by: 1) Receiving a brief instruction. 2) Practicing the material. 3) Receiving quality feedback. 4) Further practice of material. 5) Receiving in-depth instruction if they are still struggling.
What might you do in a typical first session with a student?
Two things need to happen in a first session. First, the student and I need to have a quality introduction and get to know each other. It is much better learning environment if both parties are comfortable with the other. Second, a baseline of skills needs to be established by either a recent work or informal assessment.
How do you help students who are struggling with reading comprehension?
Students can develop better reading comprehension in a number of ways. First, have them slow down. It isn't a race. Graphic organizers are excellent ways to visually sort ideas, characters, and themes. Students should be prepared to answer questions and summarize the text.