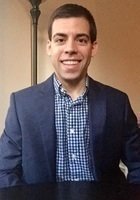 Andrew
Certified Tutor
I believe that every student has the capacity to learn and I am passionate about using tutoring to make this goal a reality.
Hobbies
cooking, long-distance running, watching baseball, sociology and criminology
Tutoring Subjects
Basic Computer Literacy
High School Writing
PC Basic Computer Skills
Social Sciences
Spanish 1
Technology and Coding
What is your teaching philosophy?
Finding what works best for each student.
What might you do in a typical first session with a student?
Build rapport, assess student needs, and set measurable and reasonable goals.