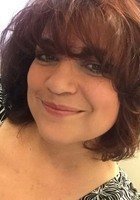 Deana
Certified Tutor
I hold a Bachelor of Science degree in Interior Design and a Master of Fine Art in Ecological Architecture. Both schools I attended were quite small and I thrived on the personal attention. I brought that along with me into my teaching; working one-on-one with students is a vital ingredient to their success. Over 12 years of teaching, I have received much personal gratification from watching firsthand the growth and development of my students. Learning should be fun, with delicious little moments of satisfaction that we want to experience again and again.
Hobbies
hiking and biking, cooking (and eating!), reading non-fiction, travelling, netflix, museums and collage-making
Tutoring Subjects
ACCUPLACER Language Use
AP Studio Art: 3-D Design
Architecture
Art
College English
Contemporary Architecture
Elementary School Science
High School Chemistry
High School English
High School Writing
History of Architecture
Middle School Science
Middle School Writing
Other
Social Sciences
Spelling Bee
Study Skills
Study Skills and Organization
What is your teaching philosophy?
We are only human right? We all have strengths and weaknesses. Learning environments often bring out our weaknesses and place challenges in the way of our understanding. When I am teaching I go beyond the subject content in order to include life skills within the lesson. Communications skills, time management, and development of insight and intuition are just some of the areas of character development I embed into my teaching style. My goal for each student is to have a relationship that allows for an understanding of how we can best maximize their strengths and minimize their weaknesses.
What might you do in a typical first session with a student?
This is where we would be getting to know and understand each other. I would want to gather background information, such as the student's interests and experiences, what their learning style is, and what they think their challenges are. From there, we can set some long- and short-term goals for our time spent together.
How can you help a student become an independent learner?
Understanding how to use resources effectively is the first step; where can I find the answer if I don't know it? Over time, a student will begin to develop their intuition and judgment, which helps in boosting their confidence in their ability to learn and to seek out answers on their own.
How would you help a student stay motivated?
I like digging deep to find a way to connect the material content to something the student enjoys or to a goal they want to achieve. Often, it just takes a shift in how the material is presented to make a breakthrough.
If a student has difficulty learning a skill or concept, what would you do?
There are three types of learners (visual, auditory, and tactile). If a student is having difficulty learning using one method, then we'll try another one until we hit a breakthrough. Oftentimes, tactile learning is the most overlooked method, yet it seems to have the most powerful results. I often try to get a tactile tool into the student's hands that they can manipulate using their creativity.
How do you help students who are struggling with reading comprehension?
I like the zoom in/zoom out technique. To zoom in, we would look at an individual word's definition. In zoom out, we look at context. Putting these two strategies together can increase reading comprehension.
What strategies have you found to be most successful when you start to work with a student?
I like having clear goals and a way to measure them over time. Developing a relationship over time-based on trust and an enthusiasm for learning is also helpful. Allowing room for the student to develop and utilize their own personal style of learning is also advantageous.
How would you help a student get excited/engaged with a subject that they are struggling in?
I would make it personal, and I would think of practical scenarios in which the information would be essential or useful in life. I like to make it a challenge, and I like to set a goal of achievement that relates to the student's personal life. I can also have a reward if needed. Make it fun whenever possible, and incorporate laughter into the lesson.
What techniques would you use to be sure that a student understands the material?
I like asking review or follow-up questions, as well as having the student rephrase content in their own words. I also like reviewing what a student has written and using practice tests. The student can also demonstrate synthesis through project development and execution.
How do you build a student's confidence in a subject?
By introducing the student to the art of self-critique, they can slowly acquire confidence and assurance in their ability to learn and build knowledge. Celebrate the small victories and soon enough there will be big victories too!
How do you evaluate a student's needs?
Clear communication between tutor, client, and parents is the key to understanding the needs of the student. No guessing, no assumptions, no misunderstandings, just clear goals.
How do you adapt your tutoring to the student's needs?
I will work with the student/parent to devise optimum learning environments and settings, correct tools and resources, and teaching to the student's learning style. Flexibility is essential in tutoring, as every student is different.
What types of materials do you typically use during a tutoring session?
A discussion prior to the session will determine what materials are necessary. Depending on the material content, we can devise a list of helpful resources and materials that can be used in the tutoring session or by the student on their own.