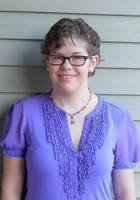 Amanda
Certified Tutor
Tutoring is my passion. I've worked as a tutor for five years, and I have received official tutoring certifications from the College Reading & Learning Association. It is my goal and personal joy to break down the material in a way so that the student has a new understanding that they may not have had before.

I structure my tutoring sessions to evaluate the strengths and weaknesses the student has in the material. During the sessions, I encourage the student to come up with the answers through series of questions, which improves the student's learning experience versus my teaching the material directly. In my experience, this method highly empowers students and enables them to handle both coursework and exams on their own. I strive to be as flexible with my time as possible.

I do not consider myself a teacher, but a helper, so I expect the student to be willing to put in the legwork when it comes to reading the textbook and attempting the homework outside of sessions. This way, the session is dedicated to material that the student doesn't actually understand. I hold myself to a high standard, so if there is any way for my improving and/or restructuring sessions, I openly accept criticism in the interest of the student. I strive to adapt to the learning style of the student. If you are not learning, I hope for open communication about these issues.

I look forward to working with you and empowering you to achieve success in your studies.
Tutoring Subjects
Business
Business Calculus
College Economics
High School Business
High School Economics
IB Economics
IB Mathematical Studies
What is your teaching philosophy?
I have found that the key to a successful session is unlocking the student's personal knowledge of the content being studied and building from there. I use the Socratic method, which poses questions that get the student to think through the concepts and to come to answers that they didn't know they had and filling in the gaps if any. By having a student communicate what they know, they are truly learning as they are "teaching."
How would you help a student get excited/engaged with a subject that they are struggling in?
Starting where they are and identifying what they know typically helps build confidence and excitement. A difficult topic for the student can be very intimidating to tackle, but taking one step at a time and identifying the wins over the losses builds confidence and the student's knowledge. Also, a tutoring session is never successful when the tutor is speaking the majority or all of the time. Structuring the session as more of a conversation definitely helps engagement.
What techniques would you use to be sure that a student understands the material?
Testing the student's knowledge through checking questions is a good way to evaluate the student's understanding. In mathematics, set up problems that test theories you just discussed. If the student struggles, find out why.
What types of materials do you typically use during a tutoring session?
Depending on the subject, I am always equipped with a pencil, paper, and a calculator. If prompted, I can supply a small dry erase board, or even a textbook if I have it.
What might you do in a typical first session with a student?
I'd get to know the student, find their strengths and weaknesses, and their learning style. I'd also find what their goals are in the sessions and for the course they're studying.