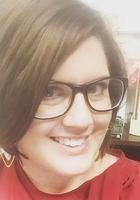 Desiree
Certified Tutor
Writing teacher; former middle school science teacher of 4 years; long-time tutor
Education & Certification
Undergraduate Degree: Rogers State University - Bachelors, Social science
Graduate Degree: Northeastern university school of law - PHD, Law
Hobbies
Traveling, reading, swimming, music
Tutoring Subjects
College Level American History
High School Level American History
Homework Support
Social Sciences
Summer
What is your teaching philosophy?
I like to help students find ways to build skills and knowledge, while also increasing independence and confidence.
What might you do in a typical first session with a student?
Get to know him/her and find out what their current knowledge and skills are.
How can you help a student become an independent learner?
By teaching and modeling strategies that are universal across all subjects, such as organization and study methods.
How would you help a student stay motivated?
I would help him/her internalize the concept of a growth mindset. To stay motivated, he or she can achieve specific benchmarks and view the progress that he or she is making.
If a student has difficulty learning a skill or concept, what would you do?
I would try a few different strategies to help him/her figure out which one is going to work best to learn this skill or concept. I would be creative in my approaches and reaffirm for him/her that there will be a strategy that will work for this problem, because there is always a way to learn something.
How do you help students who are struggling with reading comprehension?
I teach active reading strategies, such as highlighting, underlining, making margin notes, and using other note-taking strategies.
What strategies have you found to be most successful when you start to work with a student?
I work on building a relationship with my students and figuring out what will work best when working with each individual student. Learning what motivates each student is paramount to helping him/her achieve.
What techniques would you use to be sure that a student understands the material?
Having the student answer deep questions that involve applying knowledge and skills to a novel problem.