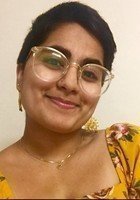 Pia
Certified Tutor
Hello! I am a college senior at Columbia University studying Political Science with a focus on quantitative methods (regression, applied econometrics, experimental methods). My teaching experience in the past has included SAT/ACT prep, essay revision, mathematics tutoring, and specific SAT Subject Test tutoring. Now that I've almost finished my time as a college student, I would be happy to walk other students through ways to read an academic text, study methods, and specific college coursework questions. I am a previous teacher through Americorps in their summer program for future first gen college students. I look forward to getting to know you!
Test Scores
ACT Composite: 35
ACT English: 35
ACT Math: 35
ACT Reading: 34
ACT Science: 35
SAT Composite (1600 scale): 1540
SAT Math: 740
SAT Verbal: 770
SAT Writing: 740
Hobbies
Writing, karaoke with friends, talking about politics
Tutoring Subjects
AP Studio Art: 2-D Design
College Application Essays
College Biology
College English
College Political Science
Comparative Literature
High School Biology
Homework Support
Other
Philosophical Ethics
Political Science
SAT Verbal
STAAR EOC Prep
Study Skills
Study Skills and Organization
Summer
What is your teaching philosophy?
A good teacher alters their teaching style to fit their students, and encourages them to delve deeper into things that really pique their interests.
What might you do in a typical first session with a student?
I would introduce myself and tell my student a bit about me, and let them tell me some things about them! After we were comfortable, I would ask the students what their goals are with the material we were covering so I could adapt my tutoring to fit their needs.
How can you help a student become an independent learner?
Encourage students to seek help by themselves between sessions, and direct them to sources (other than tutors or peers) that can help them. Teaching a student how to search for answers on their own is one of the best study skills a tutor can impart.
How would you help a student stay motivated?
I would give my student encouragement when they did well, and talk about their fears on certain subjects that they think might be holding them back. With younger students, small incentives like stickers always help, but verbal acknowledgement can be just as powerful. It might also be helpful to show a student how much they've improved by having them compare old and new work.
If a student has difficulty learning a skill or concept, what would you do?
I would try to approach the concept in a different way. For example, if a student is having a hard time understanding exponents, I would try to reframe my explanation visually or using a word problem. If a student is having trouble with certain grammar concepts, I might pull examples from a popular book or a news article. If the problem persists, I would ask the student what about the topic gives them trouble to see if they can provide me with any feedback.
How do you help students who are struggling with reading comprehension?
I would break down passages and ask students to summarize each paragraph. It's easy to "read" a passage without really gleaning meaning from it, so sitting and talking things out can really help.
What strategies have you found to be most successful when you start to work with a student?
Allow them to find their own answers and grow more confident with their abilities as a learner. Even when they make mistakes, remind students of their progress, and show them a record of how they've grown over the course of tutoring.
How would you help a student get excited/engaged with a subject that they are struggling in?
Depending on the topic, I would show students real-life applications of it and see whether that interests them at all. I would also give the student examples of successful individuals who struggled with certain things in school to make sure the student isn't taking their academic difficulty and applying it to their sense of self-worth.
What techniques would you use to be sure that a student understands the material?
I would use some conversational assessments that are informal paired with some more formal diagnostic tests. I would also ask the student about their confidence level in the material!
How do you build a student's confidence in a subject?
I would point out all their strengths within a subject and note areas of growth, even if a student continues to struggle. I would frame the student's weaknesses as areas to improve.
How do you evaluate a student's needs?
First, I think students can be advocates for their own education, so I would ask them. If I felt like I was still not addressing a student's needs, I would deal with areas where the student feels less confident with more practice! If there's ever a doubt about the way I'm teaching a student, the best way to confront that is having a conversation.
How do you adapt your tutoring to the student's needs?
I would try a varied approach to tutoring my student, and pay attention to what they respond positively to. If my student required special attention, I would address that with their parents to see if I can better accommodate them.
What types of materials do you typically use during a tutoring session?
I usually use a notebook and loose leaf paper, along with writing utensils for both me and the student. Occasionally, there can be online supplements or other ways to complement a student's learning.