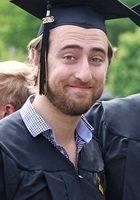 Aaron
Certified Tutor
Chemistry is hard.

But by using a more fundamental approach to understanding chemistry the subject can not only become accessible but even enjoyable. As a recent graduate from Wake Forest university, a top 25 ranked university, I can hope to help. During my time at Wake Forest University, I have helped many students as a member of a tutoring organization led by a doctorate of chemical teaching. Under his direction and through my experiences, I have learned techniques for teaching the hard-to-grasp concepts of chemistry in an effective and communicable way.

Outside of academia I believe in life-long learning. My hobbies include reading, listening to podcasts, socializing and playing competitive games.



Hobbies
Hiking, competitive games, meeting people, podcasting, reading
Tutoring Subjects
College Chemistry
High School Chemistry
Honors Chemistry
IB Visual Arts
IB Visual Arts SL
Materials Science
What is your teaching philosophy?
If a subject can be explained on a fundamental level to a student, then it can lead to insights that can reach beyond the classroom.
What might you do in a typical first session with a student?
Before each session with a student I spend my time creating a personalized lesson plan that correlates with each student's personal needs. Because of this, my sessions with students are very helpful and no time is wasted.
How can you help a student become an independent learner?
Independent learning comes from the ability to critically think. When I work with a student, I nurture the student's ability to critically think about the problem being presented. In doing so, students are able to not only understand the subject material presented but also to develop mental frameworks to understand future subject material they encounter in their academic lives.
How would you help a student stay motivated?
Student motivation is derived from many different sources both externally and internally. Each student is a different individual with different motivations. To motivate students I work with I ask questions to see what motivates them, and work within those guidelines to help them stay motivated in their class.
How do you help students who are struggling with reading comprehension?
Students struggling with reading comprehension in chemistry are often times struggling with information overload. I use techniques to condense problems into students' working space memory where they can grasp the concepts and understand what they are given and where they need to go in an achievable way.
How do you adapt your tutoring to the student's needs?
My tutoring plan is carefully crafted to match each student's needs. Before each session, I ensure to make contact with a student to discover the specific topics or areas they are having trouble with. Using this information, I constantly adapt my methods to meet the individual needs of a student to help them achieve their learning goals.