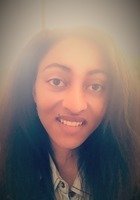 Sierra
Certified Tutor
I have a passion for helping and serving kids in any way that I can. I have worked with kids for the majority of my life via church ministries, school programs, and in the workplace. I have tutored students successfully and I am ready to dive into a more formal program where I can engage with students on an academic level even more. My philosophy for learning is repetition, motivation, and confidence. And above all of these things, leaning must be enjoyable and fun. Stressful learning will get students nowhere. When I work with children, I immediately establish a bond, a relationship of comfort and excitement. I want my students to be comfortable and to love asking questions. I am sure that my love for kids and my own academic achievements will make me a great tutor for Varsity Tutors. I will help my students to enjoy learning and to succeed in all of their subjects. I also understand that learning is not an overnight process. Patience is certainly required. I know how kids are and I have the ability to read them well. This quality of mine will also aid in my ability to be a successful tutor. I am so excited to be considered for this role and I hope that I can make differences in students' lives.
Test Scores
SAT Math: 700
SAT Writing: 740
MCAT: 30
Hobbies
Research, Movies, Outdoor activities
Tutoring Subjects
College Biology
High School Biology
What is your teaching philosophy?
Practice makes perfect! In order to master a subject, it will take repetition and focus. I believe in fun learning. Learning should never be stressful, but exciting and productive. And it will take patience as well. You may not understand a certain topic on the first try, but keep working at it. Do not give up. If you want to, you will achieve.
What might you do in a typical first session with a student?
In a typical first session, I would want to evaluate my student's strengths and weaknesses. I would ask my student what he or she wants to get from the tutoring and make sure I meet every need of my student. Then I would begin helping my student with his or her troubling subjects. But, more importantly, I want to form a comfortable environment. I want my students to always be comfortable with me in asking questions. If that level of comfort is not there, my student may not reach the potential that he or she has. I love to laugh and have a good time so I know how to make learning an awesome experience!
How can you help a student become an independent learner?
I can help a student become an independent learner by boosting my student's confidence and motivation. Without those qualities, independent learning can be very difficult and stressful. I teach the main concepts of each subject and ensure the mastery of those concepts so that when my student is on his or her own, they will have that needed confidence. I will also make learning enjoyable so my student will naturally want to learn more.
How would you help a student stay motivated?
I will help a student stay motivated by always reminding him or her the awesome reward/feeling you get from success. The feeling of working hard at something and achieving what you have worked hard for is a euphoric feeling and like no other. I will make sure my students achieve success and therefore they will be motivated to study hard and never give up.
If a student has difficulty learning a skill or concept, what would you do?
If a student has difficulty learning a skill or concept, I would try different learning styles (visual, audible, hand-on). I will give examples and may even play a game that would help my student to understand the topic.
How do you help students who are struggling with reading comprehension?
I grew up struggling with reading comprehension so I am able to really understand what students go through when they struggle with the subject. What helped me the most was reading as much as I could. Reading books, the newspaper, magazines, or anything that used more advanced language. I defined words I did not know and I would stop at "checkpoints" when I would give a summary of what I had just read. It takes a lot of practice.
What strategies have you found to be most successful when you start to work with a student?
When I start working with a student, the process is most successful when I establish a great and comfortable relationship with my student. It is always great to encourage and lift up my students as well, even in the midst of struggle. They need to know that they can do it!
How would you help a student get excited/engaged with a subject that they are struggling in?
I would help a student get excited about/engaged with a subject by boosting their confidence level. Having motivation and a good belief in yourself that you can achieve are critical for a student to get excited about learning. I would give the student problems for which I know he or she can accomplish and then advance the problems that use same concepts. Once the student has grasped the material he or she will feel great about their improvement.
What techniques would you use to be sure that a student understands the material?
A technique I would use to be sure that a student understand the material is by presenting problems that utilize the same concepts but are asked in different ways. If a student masters a more challenging problem that uses the same concepts, then I will know that my student has mastered the mat.
How do you build a student's confidence in a subject?
I can help to build a student's confidence in a subject by acknowledging my student.
How do you evaluate a student's needs?
I evaluate a student's needs by testing his or abilities in certain areas of the subject. I am able to gauge confidence levels and the areas my student does not feel confident in, and I will know those are the areas my student needs more work on.
How do you adapt your tutoring to the student's needs?
I adapt my tutoring to his or her needs by relating to my student and understanding their struggles and doing everything I can to help my student feel comfortable in the subject.
What types of materials do you typically use during a tutoring session?
During a tutoring session, I will use example problems, images, and other helpful material that I feel will help my student to understand.