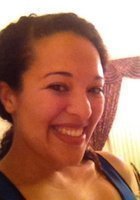 Leila
Certified Tutor
Over the past few years, I have built my career on one simple principle: creating innovative teaching techniques. I'm the person that digs deep into understanding the learner's core challenges, designs innovative solutions and delivers relevant, transformative learning experiences, every time.

I am currently an English instructor at the UCEDA School and have been teaching English for over 5 years. Academically, I hold a Masters of Philosophy in Theoretical and Applied Linguistics from the University of Cambridge, with a specialization in Second Language Acquisition and recently consulted on the development of an English language module for a language learning start-up.
Education & Certification
Undergraduate Degree: Florida State University - Bachelors, Psychology
Graduate Degree: University of Cambridge, UK - Masters, Linguistics
Hobbies
Salsa Dancing, Cooking
Tutoring Subjects
College English
Conversational Italian
High School English
Homework Support
Other
Spanish 1
Study Skills
Study Skills and Organization
Summer
What is your teaching philosophy?
My educational experience coupled with my desire to instill within others the same enthusiasm I found in learning, have shaped my continued efforts to facilitate skill acquisition through teaching. I have been fortunate enough to teach in a large public research university, which has afforded me the opportunity to implement new and empirically tested techniques in the classroom. This exposure to research as well as the university.
What might you do in a typical first session with a student?
To effectively facilitate knowledge acquisition, students must be motivated to learn, both within the classroom and outside of it. When students develop an interest in the material presented to them, it fosters their desire to know more about the subject. While teaching an introductory Italian language course at Florida State University, I presented students with a variety of learning material in many different mediums (videos of current events, popular music, conversation tables, etc.) in order to expose them to the nuances of the language in a content-based setting. This served a dual purpose of building their rapport with the culture while strengthening their language skills. At the end of the semester, many of the students expressed an interest in continuing their language studies by applying for study abroad programs or becoming Italian majors. I have found that in providing a variety of materials to facilitate language learning, a genuine motivation to learn can be instilled within all levels of a language.
How can you help a student become an independent learner?
Knowledge acquisition is optimized through a balanced ratio of input provided to the student and the output of what they have learned. By placing a strong emphasis on output, students are quickly able to become more comfortable with using and manipulating the language concepts they have acquired in order to express their original ideas. In doing so, the student is better able to make connections between an idea and the proper way to express it. While teaching, I focus on providing a variety of input in different forms, such as aural and visual, in order to appeal to each student.
How would you help a student stay motivated?
In order to properly ascertain the motivation of a student, it's important for the teacher to first understand their reasoning for engaging in tutoring. Once the tutor understands their true motivation, it helps to remind the student of the reasons why they are learning the subject matter. Providing them with the bigger picture puts their frustrations into perspective and helps them understand that the obstacles they are currently experiencing won't last.
If a student has difficulty learning a skill or concept, what would you do?
If they have difficulty learning a concept or skill, I would try to understand what kind of learner they are and then try to present the subject matter in a way that appeals to their learning style most.