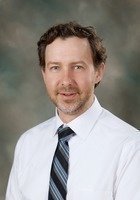 Daniel
Certified Tutor
In Fall of 2016, having received the Competitive Graduate Award, Daniel will begin an M. A. in English Language and Literature at Southern Illinois University at Edwardsville.

Daniel received an M. A. in Education from McKendree University (Lebanon, Illinois) in 2014, and received a B. A. in English from Saint Louis University in 2000.

He has taught at the high school level for 14 years. His teaching experience is broad, covering subjects from English to social studies and history to philosophy and theology. His primary areas of expertise are in composition and writing across the curriculum, reading in all content areas, and English and American Literature; however, Daniel finds that teaching well is a skill that transcends the academic disciplines.

When he is not teaching, writing, or reading voraciously, Daniel enjoys playing the guitar and piano, and riding his bike along the many bike trails scattered across southern Illinois and Missouri.
Hobbies
Reading, writing, music, and biking
Tutoring Subjects
College English
Comparative Literature
High School English
Other
Study Skills
Study Skills and Organization
Summer
What is your teaching philosophy?
Practice, practice, practice! When I think of someone who is very good at something or very smart in a certain subject, I can't help but notice that the thing that makes them unique is not that they are naturally good at that skill or naturally knowledgeable in that subject. It's that they practice that skill a lot, or they think about that subject a lot. Teaching must be about how to increase opportunities to practice skills and practice thinking about certain subjects.
What might you do in a typical first session with a student?
In a first session with a new student, I like to ask a lot of questions. This allows me to assess precisely what the student hopes to accomplish, their strengths and weaknesses, as well as their learning styles and preferences.
How can you help a student become an independent learner?
First, I try to follow this rule: Only ask questions; never answer them. This is rather difficult because, as a teacher, I have been trained to answer questions when they are asked of me. However, making it so that my students have to answer their own questions and solve their own problems, in the long run, will teach them to be independent learners.
How would you help a student stay motivated?
The most important factor for student motivation is keeping my own enthusiasm and excitement for learning high, and clear, and accessible. Motivation and positivity are infectious! It is also very important to always let the student know when they are succeeding; little successes lead to big successes.
If a student has difficulty learning a skill or concept, what would you do?
This is where teaching requires creativity. For me, as a teacher, I begin to think about what the specific difficulty is. For example, a student might feel that they are struggling with reading comprehension. The questions I might ask are, "Is there an idea in the reading that is unclear?", "Do we need to work on advanced vocabulary?", or, "Maybe our prior knowledge is weak?" The root of a difficulty will often reveal the approach to take.
How do you help students who are struggling with reading comprehension?
I love to ask students to summarize what they have just read. This one single, simple task opens reading comprehension to a new level of understanding and ease. We so often read quickly without thinking. We just assume that reading automatically leads to comprehension, but it does not. Learning to summarize and restate what we read, as we read, leads to far greater comprehension and learning.
What strategies have you found to be most successful when you start to work with a student?
Reflective writing is one of my favorite activities at the beginning of working with a student. First, it allows the student to communicate their thoughts to a teacher who sincerely wants to listen to and understand them. Second, it gives me much information about activities we can work on later.
How would you help a student get excited/engaged with a subject that they are struggling in?
One of the most important things is to provide opportunities for the student to succeed early on. It is very difficult for a student (for anyone, really) to admit that they are struggling and that they need help. So, it is important for me to make sure that I can help them feel good about what they can accomplish from the very first day. This does wonders for excitement and motivation, because everyone likes to be good at things.
What techniques would you use to be sure that a student understands the material?
I like to use short reflective writing exercises at the end of lessons or tutoring sessions to check for student understanding. Classroom teachers sometimes call these "exit tickets." In these exercises, I will ask the student to summarize what we learned that day. I can very quickly assess student understanding, and thus adjust the next lesson.
How do you build a student's confidence in a subject?
Much of my own lack of confidence in school comes from being overwhelmed by a lot of new information that I cannot connect to anything I have ever done before. So, I like to structure lessons that include a lot of accomplishable tasks that move logically from task to task. This helps the student feel comfortable and confident that what we are learning can be learned well.
How do you evaluate a student's needs?
At the risk of sounding overly simplistic, I like to ask students what they think they need. So often, our students are trying to communicate what they need, and we just aren't paying attention, or perhaps the student is using language we aren't expecting. Surely, students often cannot articulate their needs (because they don't yet know they need them!), but they can definitely tell us how learning feels to them. These expressions speak volumes regarding the student's needs.