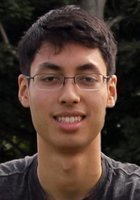 William
Certified Tutor
Tutoring represents the opportunity to work closely with a student in particular subjects I am passionate about. As a chemical engineering student at Vanderbilt University, I have always been passionate about learning math and science. I have also particularly excelled in these fields, perhaps due to my passion, and I managed to score a 790 on the math SAT and SAT II. I also took 5 AP Exams as a high school student, receiving 5s in Calculus BS, statistics, computer science, biology, and chemistry. At my university, I received an honors scholarship for my academic performance in engineering, and I currently aspire to continue my education at a higher level. As a tutor, I will motivate students, set clear goals, and help students progress towards a higher level of understanding.
Education & Certification
Undergraduate Degree: Vanderbilt University - Current Undergrad, Biomedical Engineering + Chemical Engineering
Test Scores
SAT Composite (1600 scale): 1540
SAT Math: 790
SAT Verbal: 730
SAT Writing: 730
SAT Mathematics Level 2: 790
SAT Subject Test in Biology E/M: 790
SAT Subject Test in Chemistry: 780
Hobbies
Rock Climbing, Traveling, Programming, Learning Mandarin
Tutoring Subjects
AP
AP Computer Science
AP Computer Science A
Biomedical Engineering
Chemical and Biomolecular Engineering
College Chemistry
College Computer Science
Computer Programming
General Chemistry
High School Chemistry
High School Computer Science
Other
SAT Subject Test in Mathematics Level 2
SAT Subject Tests Prep
Technology and Coding
What is your teaching philosophy?
I believe effective teaching requires the teacher to wear many hats. The teacher must act as a coach, showing their students how to purposefully practice. The teacher must also motivate and engage students to spark interest in the subject and world around them. Most of all, a teacher must use compassion and take students' failures as his own as well as their successes.
What might you do in a typical first session with a student?
In a typical first session with a student, I would first try to connect with them to try to understand their motivations, frustrations, hopes, and dreams. I would also hope to understand their learning environment and any possible hindrances to their learning. Then, I would try to establish a baseline of their current knowledge relative to where they would like to be.
How can you help a student become an independent learner?
A motivated student with a clear plan can achieve anything. To become motivated, the student must appreciate learning for their own reasons. I will then help to make a clear plan.