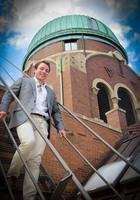 Kirill
Certified Tutor
As a successful graduate of a rigorous program, I believe it is extremely important to have a holistic undergraduate education, adequately preparing students to function in the real world. Personally, I graduated from Loyola University in Chicago, with a degree in Biophysics, and am awaiting the start of my doctoral program in Biophysics at the University of Pittsburgh. As the name would imply, biophysics is a new field applying advanced mathematical and physical principles to biological systems, at or below the molecular scale.
On that vein, I enjoy teaching mathematics, physics, and biology. Although, for me, understanding physics provides the most intellectual satisfaction, I believe that the union of these three fields provides for some of the most interesting phenomenon present in contemporary empirical study. Additionally, I like assisting students in preparation for the ACT because in the short term it provides direct results that students see.
Outside of school, I love playing tennis, weightlifting, and reading fantasy. I have played tennis for 12 years and was a part of several leagues around the suburbs (since Loyola does not have a team) while in college. However, while attending Loyola I also had to switch to weightlifting as my main form of exercise since there is not as much opportunity to play tennis in the city. Finally, when not doing research, or playing sports, I love reading fantasy novels, and have recently been going through H.P. Lovecraft's works and George R.R. Martin's Game of Thrones series.

Test Scores
ACT Composite: 33
ACT English: 35
ACT Math: 34
ACT Reading: 34
ACT Science: 32
Hobbies
Tennis, Weightlifting, Virology research, History of Physics Research, Reading for Pleasure
Tutoring Subjects
College Biology
College Physics
High School Biology
High School Physics