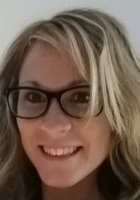 Kimberly
Certified Tutor
I am a elementary education teacher, with seven years of experience. I enjoy every single day of my job and love the adventures and passion that my students bring to me daily. I teach both regular education and special education students. I obtained my dual Masters Degree from SUNY Albany with certification in both special education and literacy. Also, I am a certified elementary education teacher and received by Bachelor of Arts from SUNY Oneonta. I understand the rigor of standardized test and use the student's prior knowledge as a base to build on. I am extremely patient and my goal is to see my student's strive and become self-confident in their learning experience. I enjoy teaching and tutoring as well as playing with my two young sons on the playground!
Education & Certification
Undergraduate Degree: SUNY Oneonta - Bachelors, Childhood Education
Graduate Degree: SUNY at Albany - Masters, Literacy and Students with Disabilities
Tutoring Subjects
College English
Elementary School Math
High School English
Homework Support
Other
Study Skills
Study Skills and Organization
Summer
What is your teaching philosophy?
I believe learning never ends. I like to instill this idea in my student's understanding of knowledge and learning. I strive every day to make sure learning is not only fun but also purposeful. Student's need to view themselves as a learner first, and then all will fall into place. I believe teaching from the known is very effective. Building on student's knowledge as a base for learning new things allows for self-confidence and the ability to take risks in their learning.
What might you do in a typical first session with a student?
I would begin my first tutoring session as an opportunity to understand my new student not only as a learner but also as an individual.
How can you help a student become an independent learner?
I would begin by building on their knowledge base and scaffolding their learning from there. Scaffolding is a very important step in the learning process; it is the balanced act of supporting while also pulling back as the student is more ready to begin learning on a more independent level.
How would you help a student stay motivated?
I would encourage the child through praise and specific feedback. I would also make each session purposeful.
If a student has difficulty learning a skill or concept, what would you do?
I would step back and reflect on why the skill or concept might be difficult for that student. I would either explain it from a different approach or step back and build on the known knowledge as a way to understand the new concept. Also, visual models are extremely helpful.
How do you help students who are struggling with reading comprehension?
I would chose a reading piece that is at their independent reading level, so decoding and fluency would not factor in. I would have comprehension conversations rather than direct questions as a way to make it feel natural and meaningful. I would also explain to the student using text evidence to support their answer.
What strategies have you found to be most successful when you start to work with a student?
Following their lead. I believe that a student who is reluctant to learn needs more time to feel comfortable with the instructor, and a base needs to be formed first. Discussing interests, struggles, and the purpose of the tutoring sessions will allow the student the opportunity to feel included in the learning process.
How would you help a student get excited/engaged with a subject that they are struggling in?
I would connect it to them through their interests.
What techniques would you use to be sure that a student understands the material?
I would have a quick "exit ticket" for the student before moving on to new material. It would be a short quick assessment, with the opportunity for the student to explain it back to me to ensure he/she understands it fully.
How do you build a student's confidence in a subject?
I build a student's confidence in a subject by building on their knowledge base first to ensure that they have prior knowledge on the subject.