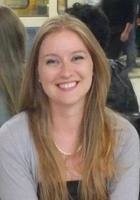 Christina
Certified Tutor
I earned my bachelor's degree from Northwestern University in computer science. I have worked at the NIH and at Caltech as a bioinformatics researcher, and I am starting graduate school this fall. My experiences as a student and scientist help me explain concepts and work through problems in a clear and engaging manner. I love teaching, and strive to make each personalized lesson enjoyable and productive. In addition to math and science, I can teach the skills and strategies students need to reach their goals on the ACT, GRE, or AP tests. I also enjoy working with elementary age students to increase reading and math proficiencies.
Test Scores
ACT Composite: 34
ACT English: 35
ACT Math: 35
ACT Reading: 32
ACT Science: 32
GRE Quantitative: 168
Hobbies
My hobbies include tennis, programming, baking, reading, and video games.
Tutoring Subjects
AP Computer Science
AP Computer Science A
College Biology
College English
Comparative Literature
Elementary School Math
High School Biology
High School English
Homework Support
Other
Study Skills
Study Skills and Organization
Summer
Technology and Coding
What is your teaching philosophy?
All students learn at a unique pace. My goal as a tutor is to help identify students' specific strengths and weaknesses, in order to keep them engaged and focus on the concepts they most need. I love to use visual aids to reinforce concepts, and have a digital drawing tablet to write and draw in online lessons.
What might you do in a typical first session with a student?
In a first session, I want to get to know my student's interests and motivations. I want to help the student set realistic goals, and make a plan to reach them.