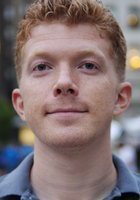 Peter
Certified Tutor
I've tutored throughout high school and college and provide a patient, attentive learning environment for my students. I enjoy working with them on English, math, and test preparation.
Education & Certification
Undergraduate Degree: Pennsylvania State University-University Park - Bachelors, Philosophy
Graduate Degree: The New School - Masters, Media Studies
Test Scores
SAT Verbal: 800
Hobbies
movies, technology, web development, hiking
Tutoring Subjects
College English
High School English
Homework Support
Other
What is your teaching philosophy?
Be patient and attentive.
What might you do in a typical first session with a student?
I'd assess their learning style and current position. Then we'd set goals for what they'd like to achieve.