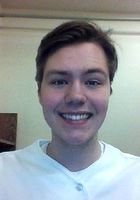 Chandler
Certified Tutor
Hello there! I am a current undergraduate student at Occidental College, where I am majoring in Chemistry. I have a passion for teaching and engaging students with their education. There is little that is more rewarding than aiding a struggling student successfully. In high school, I was a member of the National Honors Society and relished the opportunities that organization provided me to tutor others. I love learning, and I love sharing that with others. What better way to engage others learning than tutoring?I enjoy video games and other computer related tasks, baseball, basketball, and I love to read.
Education & Certification
Undergraduate Degree: Occidental College - Current Undergrad, Chemistry
Test Scores
ACT Composite: 34
ACT English: 35
ACT Math: 34
ACT Reading: 34
ACT Science: 35
Hobbies
Video games, Baseball, Basketball, Reading, Writing
Tutoring Subjects
College Chemistry
College English
High School English
Homework Support
Other
Social Sciences
Study Skills
Study Skills and Organization
What might you do in a typical first session with a student?
In the first session, I would like to go over a basic outline of how they might wish to engage the subject they are receiving help with. Setting some goals for the material is a vital first step.
How can you help a student become an independent learner?
I try and get the students to enjoy the material, and learning itself. If they enjoy learning, they will ultimately become an independent learner.
How would you help a student stay motivated?
Motivation is hard, but goals are a necessity. Setting achievable goals for students allows them to stay motivated. However, not overworking the student is just as important in maintaining motivation.
What is your teaching philosophy?
My goal is to get the student to enjoy learning. I believe that if a student enjoys learning, their ability to learn increases exponentially.
If a student has difficulty learning a skill or concept, what would you do?
Break down the concept to its most simple components and go through the question slowly. If the student gets frustrated, it's alright to move on, but ultimately persistence is key.
How do you help students who are struggling with reading comprehension?
I try and get them to analyze sentences piece by piece. By really engaging with the text and using resources to fully comprehend the material, a student is able to get through pretty much anything.
What strategies have you found to be most successful when you start to work with a student?
Setting goals. I believe that realistic, achievable goals are essential for a student's success.
How would you help a student get excited/engaged with a subject that they are struggling in?
Find what piques that student's curiosity, and find a way to relate that back to the subject at hand. Getting a student engaged with the material is crucial for their educational success.
What techniques would you use to be sure that a student understands the material?
An assorted variety of problems relating to the task at hand that do not necessarily follow a cookie cutter format, but require students to think critically.
How do you build a student's confidence in a subject?
Positive affirmation and patience. Many students will not understand a concept immediately, so patience is absolutely essential.
How do you evaluate a student's needs?
Discussing the subject with the student to figure out where they are struggling is essential. The feedback from students is what allows me to help the student in the most effective way possible.
How do you adapt your tutoring to the student's needs?
Engaging the student in the material in a way that helps them learn the best. Everybody has different methods of learning, and flexibility with these methods is vital.
What types of materials do you typically use during a tutoring session?
I will typically have the internet available as a resource, as well as an assortment of other problems for the student to work on relating to the subject, if necessary.