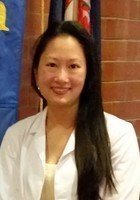 Jennifer
Certified Tutor
I have a degree in Biology from Truman State University, a liberal arts college in Missouri. I graduated summa cum laude in 2012 with experience tutoring biology, genetics, and cell biology, and also helped develop new curriculum and projects in each course. Because Truman is a liberal arts school, I had the opportunity to broaden my perspectives by pursuing courses outside of my major, such as calculus 3, business law, printmaking, and folklore. I also taught Taekwondo at the Student Recreation Center, working with everyone from novices to experts, to develop their skills for competition and advancing in rank.

After graduation I pursued adventures as an AmeriCorps Child Services Specialist, where I assisted with refugee resettlement. This was a truly humbling experience, one in which I worked with individuals with limited English proficiency and diverse backgrounds. I then combined my love of working in client services, education, and healthcare by working as Medical Assistant for an organization focused on serving individuals without health insurance.

I have returned to school for an Accelerated Second Degree Program to obtain my Bachelors of Science in Nursing at George Washington University, with the goal of becoming a nurse educator and practitioner. I tutor students in understanding and synthesizing material in medical-surgical nursing, health assessment, and pharmacology. I have made the Dean's List each semester of my current program, and was awarded Student of the Month in recognition of my tutoring achievements.

My experiences have led me to work with individuals of truly unique backgrounds, of all ages, and from all walks of life. In each of these experiences I was challenged with being able to creatively help individuals understand and master their goals, whether those goals were earning an A on the next exam, learning enough English to get to the doctor's office, obtaining a black belt, or understanding their disease processes and medications. I have also learned how to identify early on when a teaching strategy is not working, so that we can then find numerous work arounds.

I know the feeling of being so overwhelmed that learning suddenly seems impossible. In order to move past that, we will first discuss your current approach. Then together we will develop a new strategy. I am personally an auditory and visual learner, and struggle to stay focused in lectures lasting more than 30 minutes. Therefore, my strategies for my own success and the success of my students include interactive activities, use of diagrams, lots of color, repetition, funny or memorable stories, and use of current events. I am also always open to trying any new strategies suggested by my students.

I look forward to sharing in your pursuits and getting to know you on a personal level!
Test Scores
ACT Composite: 31
ACT English: 31
ACT Math: 30
ACT Reading: 31
ACT Science: 30
Hobbies
Camping, hiking, baking, gardening, travel
Tutoring Subjects
College Biology
General Biology
General Chemistry
High School Biology
High School Chemistry
Homework Support
Life Sciences
Medical Terminology
Medicine
Nursing
Nursing/NCLEX
Other
Pathophysiology
Pharmacology
Study Skills
Study Skills and Organization
Summer
What might you do in a typical first session with a student?
First, we'll get to know each other by talking about personal interests, and then we'll discuss the goal for tutoring. We'll figure out what strategies have been working and what haven't. Together, we'll devise a new plan of attack.
How can you help a student become an independent learner?
I'll help lay down the basics, give you hints, but let you solve the problem yourself. The most exciting part of working with a student is seeing it finally "click". As a student, I'll hold you responsible for suggesting an alternative approach to solving the same problem.
How would you help a student stay motivated?
Staying motivated is tough when the information seems overwhelming. We'll circle back to your personal ultimate goal. We'll also find a way to make the subject matter interesting and relate it to things you are personally interested in to help it stick.
If a student has difficulty learning a skill or concept, what would you do?
We'll focus on just the skeleton on the skill or concept. Slowly, we'll add on more when you feel confident. Also, repetition, repetition, repetition.
How do you help students who are struggling with reading comprehension?
Again, we'll break things down to basics. We'll utilize underlining, highlighting, and striking out. Most importantly, we'll work on putting the information in our own words to best answer the questions.
What strategies have you found to be most successful when you start to work with a student?
Understanding anxieties, strategies that have worked and have not worked, and getting to know the student on a personal level.