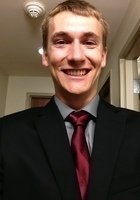 Slone
Certified Tutor
I am currently a senior engineering major at Texas A&M. One thing that I have learned about myself since I started school is that I love to teach. I have gained tutoring experience in college by helping my class mates on a variety of classes from algebra to calculus and physics. I specialize in math and physics from elementary level through AP level math and science including calculus 1 for college students.
One key thing I have found is that to be successful in class is preparation. This may be the most important factor to success. Tutoring benefits people of all grade levels by offering a chance to learn in a focused environment as opposed to a large class room. When it comes to learning, every person is different! I am always happy to answer any questions and go at whatever pace is necessary to ensure that people learn as much as possible.


Test Scores
ACT Math: 34
SAT Math: 770
Hobbies
Basketball, running, fishing, hiking, anything outdoors!
Tutoring Subjects
10th Grade Math
11th Grade Math
12th Grade Math
2nd Grade Math
3rd Grade Math
4th Grade Math
5th Grade Math
6th Grade Math
7th Grade Math
8th Grade Math
9th Grade Math
College Physics
Elementary School Math
High School Physics
What is your teaching philosophy?
Slow and steady wins the race!
What might you do in a typical first session with a student?
I would like to outline what goals they have for the course (or help them decide some) so that I can make the lessons as efficient as possible and boost their confidence.
How can you help a student become an independent learner?
Once someone sees that they have the ability to succeed in any subject, they will naturally start to enjoy it more! By demonstrating the way that I approach a problem, people can see that the material they are working on is much more manageable than they originally thought and become more confident and independent in their learning.
How would you help a student stay motivated?
I would remind the student of the end goal in mind so that people don't get discouraged!
If a student has difficulty learning a skill or concept, what would you do?
There are several different ways to approach problems, especially in math. Different people need different methods, so we can always try something new!
What strategies have you found to be most successful when you start to work with a student?
Patience is key. Often it's important to work problems over several times to make a list of steps which can be applied.
How would you help a student get excited/engaged with a subject that they are struggling in?
Being able to get the correct answer is always more fun than struggling. By working together and showing students that they truly can be successful, they can develop more confidence and have a more hopeful attitude.
How do you help students who are struggling with reading comprehension?
It would be perfectly fine to slow down the lesson to make sure that everything is understood enough!
What techniques would you use to be sure that a student understands the material?
I would ask students to explain the problem out loud to ensure that they have a full understanding. If they are able to teach the material to someone else then I would know that they were good to go!
How do you build a student's confidence in a subject?
I always give positive feedback when something is done right. Once they get the first couple steps down, they will realize that they know more than they thought and feel much better.
How do you evaluate a student's needs?
Communication is key. I would ask them what parts they feel are the most difficult and start with that.
How do you adapt your tutoring to the student's needs?
I make sure that the pace we move at is fast or slow enough for them to get the most efficient lesson possible.
What types of materials do you typically use during a tutoring session?
For math it is important to be able to visualize what is happening. I like to use graphs if the lesson is for algebra or calculus, but other than that we typically only need calculators and something to write on.