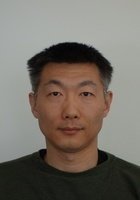 Jianwei
Certified Tutor
I'm a Ph.D. graduate in Condensed Matter Physics from George Washington University, who is looking to teach you Math, Physics, and Astronomy.
I am a patient and kind tutor who will make sure you learn what you need to. I can teach anything from basic math to advanced calculus, along with most basic Physics courses up to college level. I'm great with kids too!

I have been a teaching assistant for Physics and Astronomy for 4 years when I was in GWU, and I tutored mathematics and Physics in my free time. All of this experience has honed my skills and will guarantee that practically anyone can learn from me. Knowledge is power!
Education & Certification
Undergraduate Degree: USTCAA - Bachelors, Physics
Graduate Degree: George Washington Univ. - PHD, Physics
Hobbies
HAM, amateur radio, soccer, outdoor, movies
Tutoring Subjects
College Physics
Conversational Mandarin
High School Physics
Mandarin Chinese 1
Mandarin Chinese 3
Mandarin Chinese 4
What is your teaching philosophy?
Learning is FUN. I will get the student a relaxing and fun learning environment.
What might you do in a typical first session with a student?
Spend some time talking with the student, learning what the goal is, what our starting point is, and setting up a strategy and a plan.
How can you help a student become an independent learner?
Always try to use guided inquiry rather than a direct approach. Always try a student-centered approach.
How would you help a student stay motivated?
Positive reinforcement; design a series of small successes, which will add up to a big one.
If a student has difficulty learning a skill or concept, what would you do?
Show them what to do rather than tell them what to do. Try to use pictures, videos, or other means that are easier to understand.
What strategies have you found to be most successful when you start to work with a student?
Student centered, positive reinforcement.
How do you build a student's confidence in a subject?
EASY QUESTIONS; SMALL SUCCESSES, WHICH WILL ADD UP TO BIG ONES.
How do you evaluate a student's needs?
TALK WITH THE STUDENT, CHECK HIS HISTORY. IDENTIFY HIS GOAL, HIS BACKGROUND, AND WORK ON A PLAN.